Spring takes hold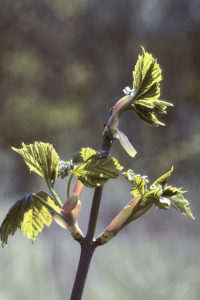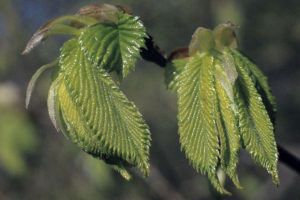 Pale green new foliage unfolds on one tree species after another. These pictures show sycamore maple (Acer pseudoplatanus, top) and common elm (Ulmus glabra), both photographed on the former fields of the island. – May 12, 1988 (top) and April 25, 1982. (Photos copyright © by Kaj Halberg)
(April 1982)
Finest weather from early morning, sunshine and no wind.
A profusion of flowers is found along the sunny southern wall of the farmhouse. Some are relics from the former ornamental garden, including blue-eyed Mary (Omphalodes verna), garden pansy (Viola x wittrockiana), and sweet violet (Viola odora), which now have company of wild flowers, such as dandelion (Taraxacum officinale), common daisy (Bellis perennnis), common ragwort (Senecio vulgaris), and field pansy (Viola arvensis).
On the islet Vorsø Kalv, many wild pansies (Viola tricolor) are seen, strangely enough the only locality on the reserve, where this species is found. In the eastern part of the old forest Vesterskov, Belgian gagea (Gagea spathacea) is flowering. This species has been known from this place for many years. Professor Knud Jessen found it here, as new to the island, in 1961. Apart from one find in the eastern old forest in 1969, it is not known from anywhere else on the reserve.
Pale green new foliage unfolds on one tree species after another, including sycamore maple (Acer pseudoplatanus), Norway maple (Acer platanoides), hawthorn (Crataegus sp.), spindle-tree (Euonymus europaeus), dog rose (Rosa canina), silver birch (Betula pendula), guelder rose (Viburnum opulus), common elm (Ulmus glabra), grey willow (Salix cinerea), goat willow (S. caprea), and rowan (Sorbus aucuparia), in the small plantation Nørre Remise also common hornbeam (Carpinus betulus) and field maple (Acer campestre). And, indeed, also the first unfolded leaves on the large beech (Fagus sylvatica) at the bend of the road.
A common brimstone (Gonopteryx rhamni) is fluttering along the southern edge of the old forest, and a couple of orange tips (Anthocharis cardamines) are seen over the meadow Kulmade, in which is a fine growth of cuckoo flower (Cardamine pratensis) – one of the food items of caterpillars of orange tip.
On the wadden sea, the first greenshanks (Tringa nebularia) of the year are seen, a flock of 17, and also the first bar-tailed godwits (Limosa lapponica), among them a black-tailed godwit (L. limosa), which is rare in these parts.
A harbour seal (Phoca vitulina) is lying on a large rock near the south coast, worming about. It is very confiding, letting me approach quite close before gliding into the water, from where it watches me with its large, dark eyes.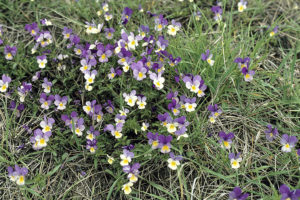 On the islet Vorsø Kalv, many wild pansies are seen, strangely enough the only locality on the reserve, where this species is found. – May 24, 1978. (Photo copyright © by Kaj Halberg)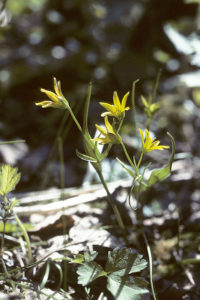 In the eastern part of the old forest Vesterskov, Belgian gagea is blooming. – May 7, 1996. (Photo copyright © by Kaj Halberg)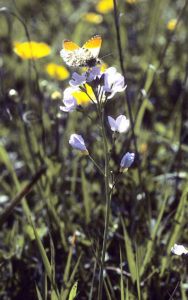 A couple of orange tips are fluttering over the meadow Kulmade, in which is a fine growth of cuckoo flower – one of the food items of caterpillars of orange tip. – May 15, 1988. (Photo copyright © by Kaj Halberg)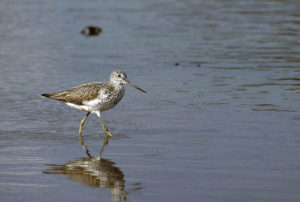 Greenshank, feeding in shallow waters along the south coast of Vorsø, August 22, 1994. (Photo copyright © by Kaj Halberg)
(Uploaded February 2017)
(Latest update November 2019)