Silvery rain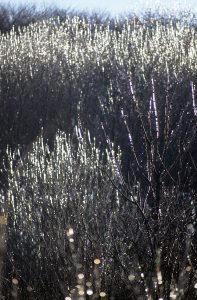 The upper branches of a grey willow (Salix cinerea) are shimmering with all the colours of a rainbow. – January 7, 1982. (Photo copyright © by Kaj Halberg)
(January 1982)
Following a long period with severe frost, a sudden weather change occurs. In the upper stratum, the temperature changes to above freezing point, and the warmed-up precipitation falls as rain, which immediately freezes on the ice-cold ground. The entire landscape is covered in an ice crust: trees, bushes, grass stems, rocks, and snow – everything is glazed by this silvery rain.
A couple of days later, when the sun emerges, it is glinting and glittering wherever you turn, and the upper branches of a grey willow (Salix cinerea) are shimmering with all the colours of a rainbow. The morning sun is low behind the eastern forest, Østerskov, creating the illusion that the forest is on fire.
If this ice crust is not going to melt soon, the few birds that are still present on the island will face a hard time. It takes a lot of extra effort to get hold of seeds, fruits, or insects, when you first have to break this armour of ice. A fieldfare (Turdus pilaris) is sitting in a dog rose (Rosa canina), its eyes closed. It has just swallowed a frozen rose hip, and, presumably, it will use almost as much energy to thaw the fruit, as it gets out of it. But rose hips seem to be everyday fare for the fieldfares, judging from their excreta, which pile up at their drinking place – a tiny spring on the northern shore, which is not frozen.
A blackbird (Turdus merula) had already died, lying on its back, frozen stiff, rime covering its feathers.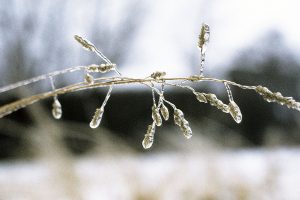 The entire landscape is covered in an ice crust. This picture shows common cock's-foot (Dactylis glomerata). – January 4, 1982. (Photo copyright © by Kaj Halberg)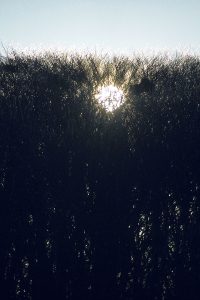 The morning sun is low behind the eastern forest, Østerskov, creating the illusion that the forest is on fire. – January 7, 1982. (Photo copyright © by Kaj Halberg)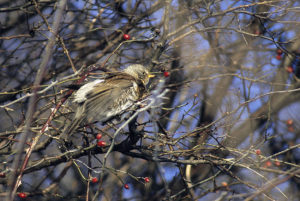 This fieldfare is sitting in a dog rose, its eyes closed. It has just swallowed a frozen rose hip, and, presumably, it will use almost as much energy to thaw the fruit, as it gets out of it. – December 20, 1981. (Photo copyright © by Kaj Halberg)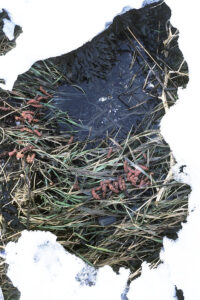 Rose hips seem to be everyday fare for the fieldfares, judging from their excreta, which pile up at their drinking place. – January 1, 1982. (Photo copyright © by Kaj Halberg)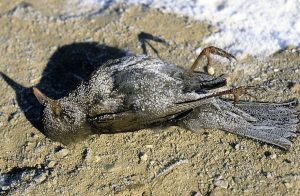 A blackbird had already died, lying on its back, frozen stiff, rime covering its feathers. – February 27, 1986. (Photo copyright © by Kaj Halberg)
(Uploaded February 2017)
(Latest update November 2019)