Fleeting winter sculptures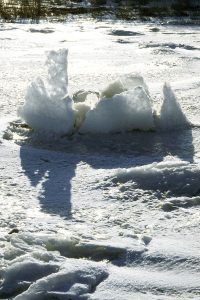 Ice sculpture, formed around a stone in shallow water. (Photo copyright © by Kaj Halberg)
(December 1981)
Following a long period of severe frost, Horsens Fjord is completely ice-covered. From the south-eastern corner of Vorsø, a long crack is stretching out into the fiord. The ice is groaning, where underlying water has been squeezed up and later frozen in slanting layers on both sides of the crack. It resembles a gigantic vagina.
The shell of a blue mussel (Mytilus edulis), dropped by a crow or a gull, is lying on the ice, frozen into it and covered by a thick layer of rime. The decaying process of a withered oak leaf, likewise covered in rime, has been prolonged by several months, the leaf meanwhile constituting a piece of natural art.
During high tide, the ice on the fiord is pushed upwards by the underlying water, sinking again during low tide. The sea bottom close to the southern coast of Vorsø contains lots of larger and smaller stones, brought here by glaciers during the last Ice Age. Each falling tide leaves a thin layer of frozen water on emerging stones. The following rising tide will push this layer outwards, leaving a new thin layer of ice inside the previous layer. In this way, several rising and falling tides create a 'flower' with delicate ice 'petals'. Around some stones, the ice has been twisted into grotesque forms, whereas others have been provided with flat 'hats' of ice.
The sun sets in an orgy of red and orange behind the islet Vorsø Kalv, adorning these fleeting winter sculptures with gorgeous colours.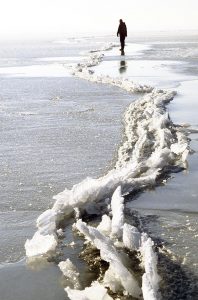 From the south-eastern corner of Vorsø, a long crack is stretching out into the fiord, resembling a gigantic vagina. (Photo copyright © by Kaj Halberg)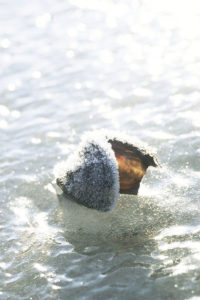 The shell of a blue mussel is lying on the ice, frozen into it and covered by a thick layer of rime. (Photo copyright © by Kaj Halberg)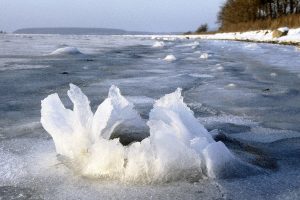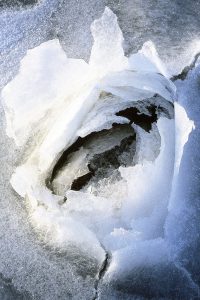 Each falling tide leaves a thin layer of frozen water on emerging stones. The following rising tide will push this layer outwards, leaving a new thin layer of ice inside the previous layer. In this way, several rising and falling tides create a 'flower' with delicate ice 'petals'. (Photos copyright © by Kaj Halberg)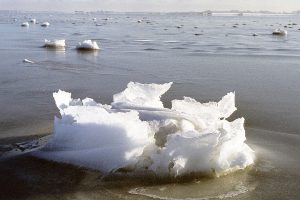 Ice sculpture, formed around a stone in shallow water. (Photo copyright © by Kaj Halberg)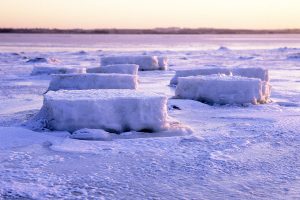 Some stones have been provided with flat 'hats' of ice. (Photo copyright © by Kaj Halberg)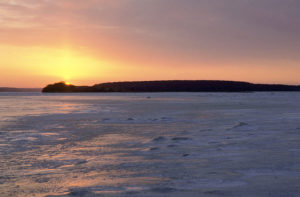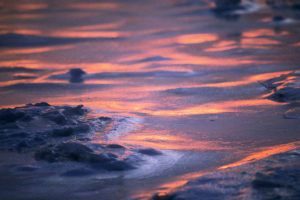 The sun sets in an orgy of red and orange behind the islet Vorsø Kalv, adorning these fleeting winter sculptures with gorgeous colours. (Photos copyright © by Kaj Halberg)
(Uploaded February 2017)
(Latest update November 2019)