Gall rain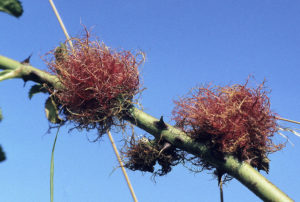 Many larvae of the bedeguar gall wasp (Diplolepis rosae) live in each of the beautiful bedeguar galls, which grow on stems of dog roses (Rosa canina). – August 23, 1981. (Photo copyright © by Kaj Halberg)
(September 1983)
In September, even on a bone-dry day, you can experience 'rain' in the south-eastern part of the old western forest, Vesterskov, where an abundance of common oaks (Quercus robur) grow. Tens of thousands of tiny, lens-shaped items, measuring c. 5 mm across, silently fall to the forest floor, literally covering it. They are galls, which have been attached to oak leaves, produced by larvae of the cynipid gall wasp (Neuroterus quercus-baccarum).
On the forest floor, the larvae remain as pupae inside the galls during the winter, and in early spring, the now adult gall wasps gnaw their way out of the galls. The odd thing is that only female wasps hatch at this time. They now lay eggs in leaf buds or male inflorescences of oaks, dying shortly after. The larvae, which hatch from these unfertilized eggs, produce galls that look entirely different from the lens-shaped galls, being globular, measuring up to 8 mm across.
Despite being unfertilized, these eggs nevertheless produce both males and females, which hatch in early summer. They mate, and the females lay eggs in the nerves of oak leaves. Larvae from these eggs produce lens-shaped galls, and the circle has been completed. As females from the two generations look very different, they were formerly believed to constitute two species.
There are many other spectacular galls on Vorsø. Besides the lens-shaped galls, you may find globular galls, red or yellow, on oak leaves, produced by larvae of the common oak gall wasp (Cynips quercusfolii), and button-like galls, caused by larvae of the silk button spangle gall wasp (Neuroterus numismalis).
On stems of dog rose (Rosa canina), you often observe beautiful bedeguar galls, resembling a red lichen. They are produced by larvae of the bedeguar gall wasp (Diplolepis rosae). Many larvae live in each of these galls.
Oblong red galls on willow leaves are sometimes produced, caused by larvae of the willow redgall sawfly (Pontania proxima).
Stems of creeping thistles (Cirsium arvense) are often swollen, which is caused by larvae of the thistle-stem gall fly (Urophora cardui, formerly Euribia cardui).
On the leaves of a large small-leaved linden (Tilia cordata), which was planted near the farm house, I have often found numerous galls, caused by larvae of the lime nail gall mite (Eriophyes tiliae).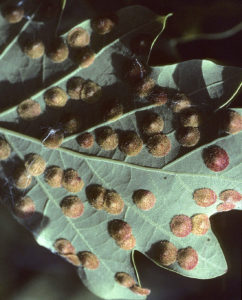 Galls on an oak leaf, produced by larvae of the cynipid gall wasp (Neuroterus quercus-baccarum). – August 17, 1983. (Photo copyright © by Kaj Halberg)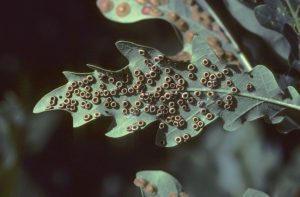 Galls on an oak leaf, caused by larvae of the silk button spangle gall wasp (Neuroterus numismalis). In the background galls, made by larvae of the cynipid gall wasp (N. quercus-baccarum). – August 17, 1983. (Photo copyright © by Kaj Halberg)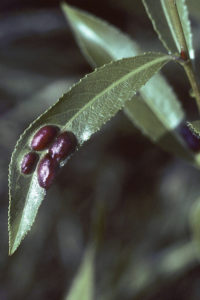 On willow leaves, in this case hybrid crack willow (Salix x rubens), oblong, red galls are sometimes produced, caused by larvae of the willow redgall sawfly (Pontania proxima). – August 19, 1983. (Photo copyright © by Kaj Halberg)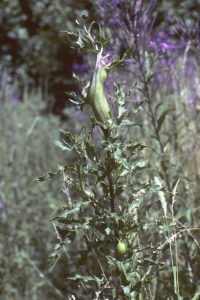 Stems of creeping thistles are often swollen, produced by larvae of the thistle-stem gall fly (Urophora cardui). In the background rosebay-willowherb (Chamerion angustifolium) and Timothy grass (Phleum pratense). – July 25, 1988. (Photo copyright © by Kaj Halberg)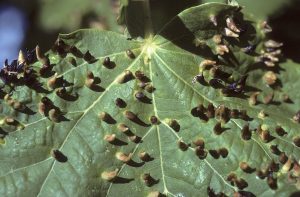 On the leaves of a large small-leaved linden, I have often observed numerous galls, made by larvae of the lime nail gall mite (Eriophyes tiliae). – October 10, 1992. (Photo copyright © by Kaj Halberg)
(Uploaded February 2017)
(Latest update November 2019)