Weather vanes
A weather vane, also called wind vane or weather cock, is an instrument for showing the direction of the wind. It is typically used as an architectural ornament to the highest point of a building.
The most common subject depicted on weather vanes is the cock, or rooster, giving rise to the term weather cock. In the 9th Century, the Pope decreed that the rooster should figure on weather vanes on church domes or steeples, possibly as a symbol of Christianity, referring to the prophecy of Jesus that Peter would deny him three times, before the rooster would crow on the morning after the Last Supper. (Source: thoughtco.com/weather-vane-history-3444409)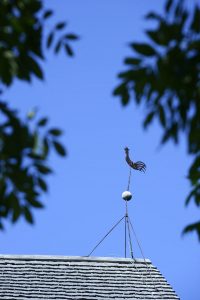 Three examples of roosters, depicted on weather vanes: from the island of Bornholm, Denmark (top), on Föra Church, Öland, Sweden (centre), and on Källa Old Church, likewise on Öland. (Photos copyright © by Kaj Halberg)
In the 1800s, the great cormorant (Phalacrocorax carbo ssp. sinensis) was persecuted all over Europe, partly because it was competing with fishermen, partly because its guano destroyed the trees, in which it was breeding. In Denmark, where it had been eradicated from almost the entire country, it re-established itself as a breeding bird during the 1940s on a small island, Vorsø, in Horsens Fjord, and, for a number of years, this island was home to the only colony of this bird in the entire country. – You may read more about this colony on the page Vorsø on my mind: Night in the cormorant city.
Naturally, a cormorant was chosen to adorn the weather vane on Vorsø. (Photo copyright © by Kaj Halberg)
A popular theme on weather vanes is sailboats, as in this picture from Christiansø, Bornholm, Denmark. (Photo copyright © by Kaj Halberg)
Another popular theme is whales. Here are two examples, a sperm whale (Physeter macrocephalus) from the town of Mendocino, California (top), and an unidentified whale from Öland, Sweden. (Photos copyright © by Kaj Halberg)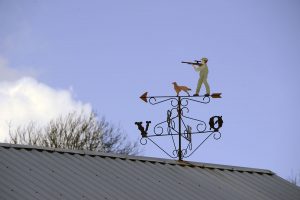 "(…) there was a man who was a hunter, and his name was Hunter." – This weather vane on Funen, Denmark, depicts a hunter and his dog. (Photo copyright © by Kaj Halberg)
This weather vane in the town of Melsted, Bornholm, Denmark, is suggestive of Hans Christian Andersen's fairy tale 'The Shepherdess and the Chimney Sweep'. (Photo copyright © by Kaj Halberg)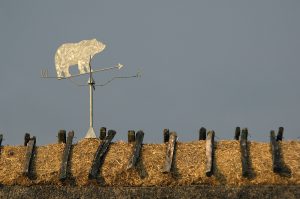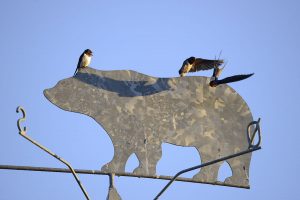 The owner of this weather vane on the island of Funen, Denmark, is named Bjørn ('Bear'), so his choice of theme was simple (top). In the second picture, a male barn swallow (Hirundo rustica) chases away an intruder from this weather vane, on which his mate is sitting. Late in the summer, when young swallows have left their nest, many of them often gather on this 'bear' (bottom), in this case mostly barn swallows, and also two house martins (Delichon urbica). (Photos copyright © by Kaj Halberg)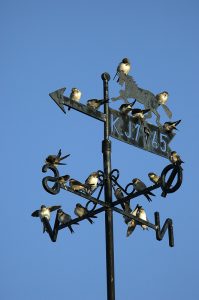 Young barn swallows and house martins, gathered on a weather vane, depicting a horse, likewise on Funen, Denmark. (Photo copyright © by Kaj Halberg)
Due to widespread usage of DDT and other pesticides, the white-headed, or bald, eagle (Haliaeetus leucocephalus) was largely eradicated from the Lower Fifty American States. Today, fortunately, the population of this iconic bird is again increasing, among other places in California, where the eagle is often depicted on weather vanes, here in Mendocino. (Photo copyright © by Kaj Halberg)
This humouristic weather vane in the town of Gudhjem, Bornholm, Denmark, depicts a bird, sitting on a pig. (Photo copyright © by Kaj Halberg)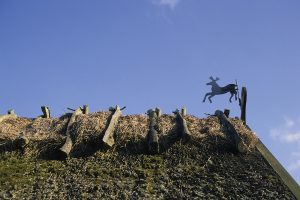 The moose (Alces alces) is very common in Sweden, and, naturally, it is often depicted on weather vanes, in this case in Himmelsberga, Öland. (Photo copyright © by Kaj Halberg)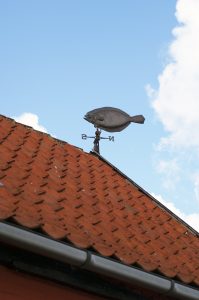 Fishing is an important trade on the island of Bornholm, Denmark, making the choice of this flatfish, depicted on a weather vane in the town of Gudhjem, quite appropriate. (Photo copyright © by Kaj Halberg)
(Uploaded August 2018)
(Latest update March 2019)