Daoism in Taiwan
Dressed as one of the legendary San-tai-tze ('Three Princes'), this man is dancing during a festival in Changhua, dedicated to the supreme Daoist Mother Goddess Mazu. (Photo copyright © by Kaj Halberg)
Daoism is one of the two great philosophical, religious and ritual traditions of China, the other one being Confucianism. According to legend, Daoism was founded by a Chinese philosopher and writer, Lao-tse (also Laozi or Lao-tzu), lit. 'Old Master', who was reputedly born around the 6th century B.C., and regarded as the author of Daodejing (also written as Tao Te Ching), which describes the Dao (or Tao) as the source and ideal of all existence, the root of all things, unseen and immensely powerful, yet supremely humble. Some historians claim that Lao-tse is merely a legendary figure, while others point out that he lived in the 5th or 4th century B.C. In everyday religious Daoism, he is regarded as a deity.
Daoism does not emphasize strict rituals and social order, which are fundamental in Confucianism, but emphasizes living in harmony with the Dao (literally 'The Way'), i.e. according to ethic principles, focusing on simplicity and spontaneity, understanding the nature of reality, increasing longevity, living a moral life, and regulating consciousness and diet.
Many early Daoists, in the 4th century B.C., emphasized living in accordance with the alternating cycles of nature, and, especially in southern China, absorbed many elements from shamanism (see elsewhere on this website, Religion: Animism). To this day, shamans still play an important role in Daoist religious ceremonies.
In everyday Taiwanese Daoism, worship of gods is very common. By far the most important gods are the supreme Mother Goddess, Mazu, and the Earth God, Tu-di-Gong, the latter often depicted on Taiwanese graves (see elsewhere on this website, Culture: Graves). Other deities of minor importance include Guan-yin, whose name loosely translates as 'she who hears all humankind's cries', and Guan-Gong, who was an ordinary man, later revered for his righteousness and loyalty.
Images of the Mother Goddess Mazu in the Grand Mazu Temple, Tainan (top), and in the Fushing Temple, Xitou. (Photos copyright © by Kaj Halberg)
Daoist temples are often extremely colourful. This picture shows a detail of the Gong Fan Temple in Mailiao. (Photo copyright © by Kaj Halberg)
In Chinese mythology, the dragon is a symbol of power, strength, and good luck, and most Daoist temples abound with colourful images of these creatures. In the bottom picture, traditional paper lanterns are seen in the foreground. (Photos copyright © by Kaj Halberg)
The Feng-Huang (often erroneously called 'Chinese Phoenix'), who is the ruler of birds, symbolizes virtue, duty, mercy, and grace. This creature also adorns countless Daoist temples. (Photo copyright © by Kaj Halberg)
As the virtues of the dragon and the Feng-Huang complement one another, they are often depicted together in Daoist temples. (Photo copyright © by Kaj Halberg)
Temple guardian and paper lanterns in the Fushing Temple, Xiluo, dedicated to the Mother Goddess Mazu. Such paper lanterns adorn most Daoist temples. – Pictures of many paper lanterns are presented elsewhere on this website, see Culture: Lamps and lights. (Photo copyright © by Kaj Halberg)
Before entering the inner sanctum of a Daoist temple, you place burning incense sticks in sand in thuribles, which are often guarded by dragons. (Photos copyright © by Kaj Halberg)
Burning incense fills the air with smoke in the so-called 'Bird Temple', Sansia, which got its nickname from the many carvings on the temple columns, depicting various birds. The stern temple guardians keep miscreants at bay. (Photo copyright © by Kaj Halberg)
Burning fake paper money as an offering is a very common practice in Daoist temples. Ovens, serving this purpose, are erected in front of the temples. (Photos copyright © by Kaj Halberg)
The Daoist Earth God, Tu-di-Gong, is often depicted on graves. (Photo copyright © by Kaj Halberg)
Daoist festivals
A huge number of Daoist festivals are celebrated in Taiwan, all being immensely spectacular and colourful. Parades often take place during festivals, where six or more men carry palanquins, containing images of Daoist gods, on bamboo poles, which rest on their shoulders. The palanquins are often decorated with flowers or other ornaments, and a huge number of firecrackers are ignited, often right beneath the palanquin.
Each palanquin is followed by worshippers on foot, and a pick-up with musicians, playing traditional music on drums, cymbals, and various wind instruments. In present-day parades, music is sometimes delivered by ghetto blasters, playing techno music or other modern sounds, full volume, while sparsely clad girls dance to the music. Daoism is indeed a very tolerant religion, in which almost everything new is accepted.
Most parades include people, hidden inside huge puppets, which depict various gods or guardians, walking in a peculiar striding style, with swinging arms. Other parades include lion dances or dragon dances.
Tongji (or Jitong) are persons, who are possessed by a god or spirit, to represent it on Earth. During festivals, they often inflict wounds on themselves, using knives, swords, or clubs with numerous spines. Bajiajiang are people, dressed as devils, who practice kung-fu during parades. Usually, Daoists do not regard all these participants as regular people, but rather as persons being possessed by the various gods or spirits.
During Daoist festivals, fireworks are always ignited, often beneath the palanquins. (Photos copyright © by Kaj Halberg)
During Daoist parades, men, dressed as devils, or Bajiajiang, practice kung-fu. (Photos copyright © by Kaj Halberg)
These huge puppets, depicting various gods or guardians, are steered by men, hidden inside the puppets. – Beimen. (Photo copyright © by Kaj Halberg)
A dragon dance is performed by many men, who, with the help of poles, move a long piece of cloth, hereby creating the perfect illusion of the writhing body of a dragon. (Photo copyright © by Kaj Halberg)
Lion dances are often performed during Daoist festivals, here in front of the Fushing Temple, Xiluo (top), and in front of the Samlong Temple, Siao Liouchou Island. (Photos copyright © by Kaj Halberg)
In a trance, this Tongji, or Jitong, on Siao Liouchou Island has been possessed by a god or a spirit. He has inflicted numerous wounds on his face and body – a common practice during Daoist festivals. (Photo copyright © by Kaj Halberg)
Participating in a procession in Lugang, this Tongji has pierced his cheeks with a spear. (Photo copyright © by Kaj Halberg)
This Tongji, his face painted black, carries a club with numerous spines, with which he is going to inflict wounds on his back. – Beimen. (Photo copyright © by Kaj Halberg)
During the annual Lantern Festival, which is celebrated during Chinese New Year, thousands of paper lanterns are produced.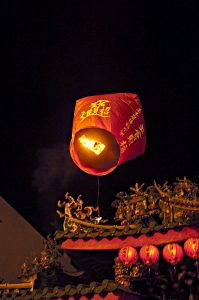 Well-wishing words are painted on some of the paper lanterns, after which they are released into the air, with a bundle of burning fake money inside. (Photos copyright © by Kaj Halberg)
During the Lantern Festival, volunteers undress to represent the Money God, Handan-yeh. As this god dislikes cold, people shell the volunteer with firecrackers to heat him up, thus maybe winning his favour. The volunteers wear glasses, a hat or a helmet, and a scarf over their mouth and nose, to avoid their face being burned.
Processions in honour of the money god Handan-yeh take place in the morning as well as in the evening, here in the city of Taitung. (Photos copyright © by Kaj Halberg)
In certain fishing communities in southern Taiwan, people still celebrate the so-called Boat Burning Festival, a Daoist festival, during which a complete wooden boat is built, only to be burned as an offering to the god of diseases, Wang-yeh, hoping that he will spare the people of the plague and other dreadful diseases. In former times, the burning boat was pushed out to sea, ceremonially carrying the diseases away, but this practice has now been abandoned, and the boat is burned on land.
Boat Burning Festival, Jiading, near Kaoshiung. Before burning the boat, people donate offerings of fake paper money to Wang-yeh, throwing bundles of them on board the boat. (Photos copyright © by Kaj Halberg)
On the island of Siao Liouchou, southern Taiwan, the practice of burning a boat during the Boat Burning Festival has been abandoned. Instead, fishermen place an image of Wang-yeh, or another local god, on board their vessel, whereupon they circumnavigate the island, hoping that this will suffice. Lots of fireworks are ignited during this circumnavigation.
I was invited on board this fishing vessel, which circumnavigated Siao Liouchou Island, bringing an image of a local deity on board. (Photos copyright © by Kaj Halberg)
During the Boat Burning Festival, people on Siao Liouchou carry countless palanquins, containing images of local gods, to the beach to perform a ritual cleaning of the palanquin and its image in the sea water, while men blow long brass horns. (Photos copyright © by Kaj Halberg)
Celebrating Chinese New Year 2015, Fusing Temple, Xiluo. Shortly before midnight, thousands of balloons are released into the air from the temple courtyard (top). People carry torches, consisting of green bamboo sticks with rolls of burning paper inside, from the temple through the streets of the town, hereby scaring away evil spirits. (Photos copyright © by Kaj Halberg)
The Mazu cult
According to legend, the supreme Mother Goddess Mazu was born in 960, in Fujian Province, southern China, as the seventh daughter, Lin Mon-yang, of Lin Yuan. Her father and brothers were fishermen.
One day, while they were out at sea, a typhoon arose, and the women feared that they would drown. Mon-yang fell into a trance, during which she saw that her father and brothers were drowning, and she reached out to them, holding her brothers up with her hands and her father with her mouth. Mon-yang's mother tried to wake her up, but she was in such deep trance that she appeared to be dead. The mother, already believing that the rest of the family had perished, broke down, crying. Mon-yang opened her mouth and let out a cry to let her mother know she was still alive, but this action forced her to drop her father. He perished at sea, but Mon-yang's brothers returned alive, telling the villagers that by some kind of miracle they had been held up in the water during the typhoon.
According to legend, Mon-yang died at the age of 28, when she climbed a mountain and flew to heaven to become a goddess, Mazu. After her death, many fishermen and sailors began to worship her, honouring her courage in trying to save those at sea, and this worship quickly spread to other Chinese coastal provinces, and to Taiwan. Much of her popularity stems from her role as a compassionate motherly protector. In Taiwan alone, more than 800 temples are dedicated to Mazu.
During the annual Mazu festival, usually celebrated in April, thousands of pilgrims walk along a route, many kilometres long, determined by the goddess herself en route. (Photos copyright © by Kaj Halberg)
This pilgrim and his dog are both well prepared for their long hike during the Mazu festival. (Photo copyright © by Kaj Halberg)
During the Mazu festival, a palanquin with an image of the Mother Goddess is carried along the route, from temple to temple. People lie down in a long row, so that the palanquin will pass over them, to receive the blessings of the goddess. – Pitou. (Photo copyright © by Kaj Halberg)
(Uploaded November 2016)
(Revised November 2018)