Rhododendrons
In the Greek, rhododendron means 'rose tree'. It seems that to the ancient Greeks, the flowers clusters of certain species resembled roses. One of these could have been R. barbatum, here photographed in Langtang National Park, Nepal. (Photo copyright © by Kaj Halberg)
In the Greek, rhododendron means 'rose tree'. These trees and shrubs, however, are not at all related to roses, but belong to the heath family (Ericaceae). It must be admitted, however, that the flower clusters of certain species, from a distance, do resemble roses.
The genus Rhododendron is huge, comprising c. 1,025 species worldwide, found mainly in temperate and subtropical areas of Eurasia, North America, Tropical Asia, and New Guinea, with the largest concentrations encountered in south-western China, the Himalaya, the Sunda Islands, and New Guinea. A few species extend into the Arctic region, and a few others into areas with a true tropical climate, e.g. one species in Queensland, Australia.
Rhododendrons vary greatly in size, from dwarf shrubs such as R. pumilum, R. nivale, and R. lapponicum, which are usually less than 20 centimetres high, to species like R. arboreum and R. grande of the Himalaya, which can grow to 15 metres tall. The flowers of most species are various shades of red, pink, or lilac, while other colours include white, yellow, and greenish.
The name rhododendron is used for all species of the genus. The deciduous species, however, are often called azalea, and some species – mainly those of central Europe – are called by their German name, Alpenrose. The genus dwarf alpenrose (Rhodothamnus), comprising 2 to 4 species, differs in certain aspects from the true rhododendrons, causing it to be placed in a genus of its own.
Rhododendrons are found mainly in temperate and subtropical areas of Eurasia, North America, Tropical Asia, and New Guinea. These pictures show Pacific rhododendron (R. macrophyllum) from western North America, R. campylocarpum from Nepal, and red-hairy azalea (R. rubropilosum) from Taiwan. (Photos copyright © by Kaj Halberg)
Rhododendrons vary greatly in size. These two pictures show extremes from both ends of the scale: R. arboreum, a widespread Asian species, which often forms forests of up to 15-metre-tall trees, and R. pumilum, which rarely grows taller than 10 centimetres. The habitat of this dwarf shrub, which is distributed from eastern Nepal eastwards to south-western China, is open slopes and rocks. (Photos copyright © by Kaj Halberg)
The inflorescence of most rhododendron species is an umbel-like cluster, the corolla being funnel- or bell-shaped, with five lobes. This picture shows an inflorescence of R. arboreum, still unfolded. – Helambu, Nepal. (Photo copyright © by Kaj Halberg)
The fruit is a capsule, containing between four and twenty chambers. In these pictures, fruits from the previous year are still sitting on the plant. – R. arboreum, Helambu, Nepal (top); Pacific rhododendron (R. macrophyllum), Redwood National Park, California, United States. (Photos copyright © by Kaj Halberg)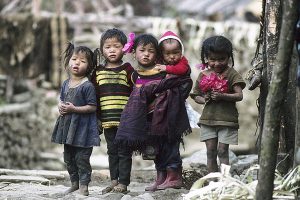 Rhododendron flowers are appreciated all over the World for their beauty. In the upper picture, a woman from the Wumeng Shan Mountains, Guizhou Province, China, has just picked fresh flowers and leaves from a local rhododendron species, held by her small son. The lower picture shows a group of children in eastern Nepal, one of them with an armload of R. arboreum flowers. (Photos copyright © by Kaj Halberg)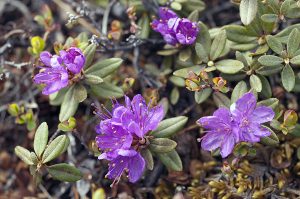 Many rhododendron species are very tough, growing under severe climatic conditions. These pictures show R. arboreum (top) and R. campanulatum, both from Langtang National Park, central Nepal; Lapland rhododendron (R. lapponicum ssp. parviflorum) from eastern Siberia, where temperatures in winter can drop to below -30o Centigrade; and an unidentified species from the Wumeng Shan Mountains, Guizhou Province, China, whose flowers and leaves are covered in rime. (Photos copyright © by Kaj Halberg)
In Europe, including the Caucasus, 12 species of rhododendron are found, the most widespread of these being the rusty-leaved alpenrose (R. ferrugineum), which grows in the Pyrenees, the Alps, the Jura Mountains, and the northern part of the Appennines. This species often covers large areas of mountain slopes between 1,600 and 2,200 metres altitude, as in this picture from the Grossglockner area, Austria. (Photo copyright © by Kaj Halberg)
The rusty-leaved alpenrose was named after a rusty-coloured layer of hairs, covering the underside of its leaves (not seen in this picture, however). This species grows mainly on acid soils. (Photo copyright © by Kaj Halberg)
Another common European species is hairy alpenrose (R. hirsutum), growing on carbonate-rich soils in the Alps, from Switzerland eastwards, and in the Carpathians, where it may be introduced. It is easily identified by its ciliate leaves. Where this species and the rusty-leaved alpenrose occasionally meet, hybrids between them are frequent. – This hairy alpenrose was photographed in Berner Oberland, Switzerland. A common spotted orchid (Dactylorhiza maculata ssp. fuchsii) is also seen in the upper picture. (Photos copyright © by Kaj Halberg)
China is the absolute stronghold of the Rhododendron genus, with no less than c. 571 species, of which 409 are endemic. These pictures show R. simsii (top) and an unidentified species, both from the Guizhou Province. (Photos copyright © by Kaj Halberg)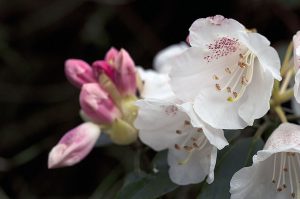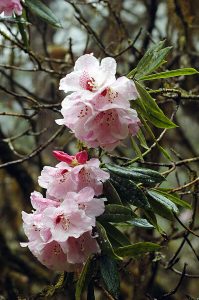 Formerly, R. morii, of central and eastern Taiwan, was regarded as a subspecies of R. pseudochrysanthum. Its flower colour comes in all shades between snow-white and pale pink. The white-flowered form in these pictures was photographed in the Hohuan Shan Mountains, while the pinkish form was seen on a foggy day in montane forest in Taipingshan National Forest Recreation Area. (Photos copyright © by Kaj Halberg)
The Himalaya is home to c. 100 species of rhododendron, the vast majority growing in the eastern part of the mountain chain. A tiny country like Bhutan, for instance, harbours more than 60 species. The further west you travel in the Himalaya, the fewer species you encounter. Eastern Nepal is home to c. 30 species, western Nepal to seven, and Pakistan to only four. – The dwarf shrub R. lepidotum, whose flowers come in three colour forms, is a widespread species, found from northern Pakistan eastwards to south-western China. The yellow-flowered form, seen in the lower picture, is rare. (Photos copyright © by Kaj Halberg)
In the Himalaya, rhododendron species occur in almost all vegetation zones, from subtropical to alpine, the major part found between 2,000 and 4,000 metres altitude. – The tall R. arboreum is very common, growing between 1,500 and 3,600 metres altitude. In March-April, millions of flowers of this species add a lovely pinkish tinge to large tracts of forest in the Annapurna area, central Nepal, where these pictures were taken. (Photos copyright © by Kaj Halberg)
R. arboreum is the national plant of Nepal, called lali guras. In spring, its flowers, which produce a profusion of pollen, are much visited by various bird species, here a striated laughingthrush (Garrulax striatus). (Photo copyright © by Kaj Halberg)
The intensity of the red colour of the flowers of R. arboreum decreases with higher altitude, and near the upper limit of its distribution, you sometimes encounter trees with white flowers. These pictures show three shades of flower colour. (Photos copyright © by Kaj Halberg)
The yellow azalea (R. luteum) is found from Poland, south through Austria and the Balkans, and eastwards to the Caucasus. Its sweet-smelling flowers attract bees, but the honey produced from them is actually toxic, and reports of people being poisoned by consuming this honey date as far back as to Classical Greece. – This plant was seen on the Turkish Black Sea coast, near the town of Tirebolu. (Photo copyright © by Kaj Halberg)
In North America, 27 rhododendron species are found, with the highest concentration found in the Appalachian Mountains. This picture shows pinxter-flower (R. nudiflorum, also called R. periclymenoides), which is distributed from Massachusetts south to North Carolina, and westwards to western Kentucky and eastern Tennessee. – This one was photographed at Pohatcong Creek, New Jersey. (Photo copyright © by Kaj Halberg)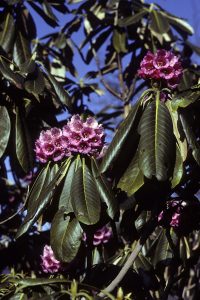 My guide, Saila Tamang, standing in a dense growth of R. hodgsonii in the Barun Valley, eastern Nepal. This large species is easily identified by its dense inflorescences and large leaves. It has a rather limited distribution, from eastern Nepal to south-eastern Tibet. (Photo copyright © by Kaj Halberg)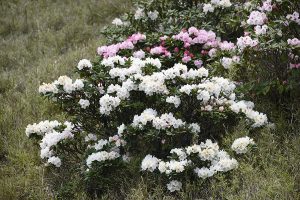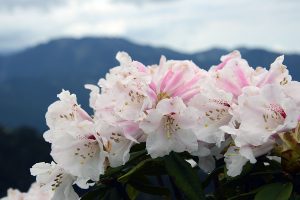 R. pseudochrysanthum is a gorgeous shrub, found at very high altitudes in the mountains of Taiwan, between 3,100 and 3,900 metres. Its flowers are white or pink, as seen in these pictures, which were taken in the Hohuan Shan Mountains. (Photos copyright © by Kaj Halberg)
R. campylocarpum is distributed from eastern Nepal to south-western China, at altitudes between 3,000 and 4,000 metres. It is very common in the Khumbu area of eastern Nepal, where it brightens up large tracts of forest with its pale-yellow, almost transparent flowers. In the upper picture, from left, the peaks of Nuptse (7879 m), Sagarmatha (Everest) (8850 m), and Lhotse (8511 m) are seen in the background. (Photos copyright © by Kaj Halberg)
Early in the morning, the flowers of this hardy R. fulgens are covered in rime. This species grows at high altitudes in the Himalaya, from eastern Nepal to south-eastern Tibet. – Barun Valley, eastern Nepal. (Photo copyright © by Kaj Halberg)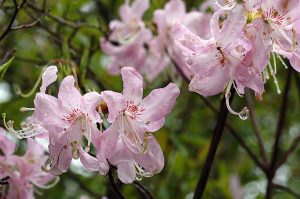 Pinkshell azalea (R. vaseyi) has an extremely limited distribution, found only in the Appalachian Mountains in North Carolina, United States. – These flowers in Pisgah National Forest are covered in rain drops after a heavy shower. (Photo copyright © by Kaj Halberg)
From a distance, R. barbatum is quite similar to R. arboreum, but a closer look at it reveals distinctive glandular bristles on its leaf-stalk, and its pinkish bark peels off in thin, cinnamon-coloured flakes. This species is very common in the Himalaya, often forming pure stands at altitudes between 2,400 and 3,600 metres altitude. It is found from north-western India eastwards to Bhutan. (Photos copyright © by Kaj Halberg)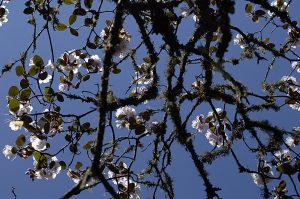 As its popular and specific names imply, the bell rhododendron (R. campanulatum) has bell-shaped flowers. This attractive shrub is very common in the Himalaya, forming dense thickets at altitudes between 2,800 and 4,000 metres. Among other things, it can be identified by the rusty-coloured layer of hairs on the underside of its leaves. (Photos copyright © by Kaj Halberg)
Formerly, R. wallichii was regarded as a variety of R. campanulatum, but generally its flowers are paler, and the underside of its leaves is not hairy. It is very common in the Khumbu area, eastern Nepal. (Photo copyright © by Kaj Halberg)
The flame azalea (R. calendulaceum) is native to the Appalachian Mountains, from Pennsylvania and Ohio south to Georgia and Alabama. Due to its gorgeous flowers, it is widely cultivated, and these shrubs in Maudsley State Park, Massachusetts, are escapes from earlier cultivation. (Photos copyright © by Kaj Halberg)
Cumberland azalea (R. cumberlandense) is quite similar to flame azalea, but flowers and leaves are smaller, and when mature, the leaves have a waxy bloom on the underside. Its style and filaments are brick-red, whereas they are yellow, orange, or pink in flame azalea. Cumberland azalea has a limited distribution, found from the Cumberland Plateau in Kentucky south to Georgia, Alabama, and North Carolina. – This picture is from Cades Cove, Great Smoky Mountains National Park, Tennessee, United States. (Photos copyright © by Kaj Halberg)
R. ciliatum is a small shrub, whose white or slightly pinkish flowers have five notched, overlapping lobes. This species has a very limited distribution, from eastern Nepal to Bhutan. It often grows on rocks, at altitudes between 2,700 and 3,900 metres. (Photo copyright © by Kaj Halberg)
R. ponticum is native to the Caucasus, Bulgaria, Turkey, Lebanon, Spain, and Portugal. In 1763, it was introduced to Britain, where it quickly became naturalized, spreading vegetatively by suckers on the tips of the branches. Today, it is a widespread menace, replacing local plant species, especially in Ireland. – These pictures are from Espiye, on the Turkish Black Sea coast, where the species is a native. (Photos copyright © by Kaj Halberg)
R. setosum (3 upper pictures) and R. nivale are both dwarf shrubs of the Himalaya, distributed from western Nepal eastwards to south-western China. They are quite similar, but the leaf margin of R. setosum usually has bristles, and its funnel-shaped corolla is reddish-violet (rarely pink, as in picture 3), while R. nivale has darker violet, smaller flowers. It generally grows in drier areas than R. setosum. (Photos copyright © by Kaj Halberg)
Montane areas of Borneo hold c. 55 species of rhododendron, about half of these found on the highest peak on the island, Gunung Kinabalu (4094 m). Two species are quite common in the forest at about 2,000 metres altitude on this mountain, the pink-flowered R. brookeanum (now often regarded as a subspecies of the widespread R. javanicum) and the yellow-flowered R. retivenium. At higher altitudes, shrubs of R. ericoides are found. This species has red, funnel-shaped flowers and tiny leaves, reminiscent of those of crowberry (Empetrum nigrum). – Read more about the flora and fauna of Gunung Kinabalu on this website, see Travel episodes – Borneo 1985: A hike up Gunung Kinabalu. (Photos copyright © by Kaj Halberg)
R. wightii has rather large, white flowers with red blotches inside. It forms shrubberies many places in the eastern Himalaya, between 3,300 and 4,300 metres altitude. These pictures are from Makalu-Barun National Park, eastern Nepal. – Read more about the flora and fauna of Makalu-Barun National Park on this website, see Plants – Plant hunting in the Himalaya: The rhododendron valley. (Photos copyright © by Kaj Halberg)
Western azalea (R. occidentale) is found in coastal ranges of western North America, from Oregon south to the Mexican border. It is not known to occur east of the Cascade and Sierra Nevada Mountains. – This photograph is from Cave Junction, Oregon. (Photo copyright © by Kaj Halberg)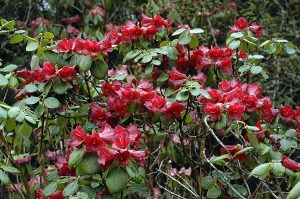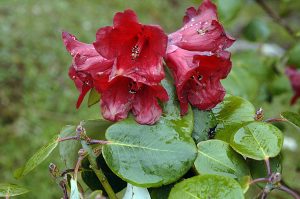 R. thomsonii, found between eastern Nepal and south-eastern Tibet, is easily identified by its red calyx and wax-like flowers. It grows in open areas, preferably near streams. (Photos copyright © by Kaj Halberg)
R. delavayi is a gorgeous species, distributed in south-western China, south-eastern Tibet, Bhutan, Arunachal Pradesh, and mountains of northern Myanmar, Thailand, and Vietnam. This picture is from the Wumeng Shan Mountains, Guizhou Province, China. (Photo copyright © by Kaj Halberg)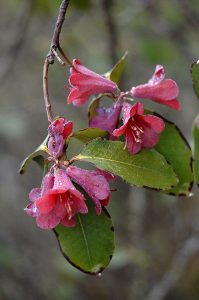 R. cinnabarinum has long, tubular, waxy, pendent flowers, which are usually dark red, occasionally with paler flowers, as seen in the lower picture. This species grows at altitudes between 3,200 and 4,000 metres, from eastern Nepal eastwards to south-western China. (Photos copyright © by Kaj Halberg)
As its name implies, the red-hairy azalea (R. rubropilosum) can be identified by the reddish-brown, glandular hairs on its twigs and leaves. This species is found in central Taiwan, at altitudes between 1,800 and 3,300 metres, often forming large thickets at higher altitudes, as here on Hohuan Shan. (Photo copyright © by Kaj Halberg)
The flowers of R. triflorum are a very pale yellow with a greenish tinge, sitting in clusters of three – as indicated by its specific name. Its bark peels off in thin, cinnamon-coloured flakes. – This picture is from the Ghunsa Valley, eastern Nepal. (Photo copyright © by Kaj Halberg)
Catawba rhododendron (R. catawbiense) with raindrops, Pisgah National Forest, North Carolina, United States. This species is very common at higher altitudes in the southern part of the Appalachian Mountains. (Photo copyright © by Kaj Halberg)
Dense thickets of R. anthopogon, in Nepal called sun pathi, cover large areas in the Himalaya, at altitudes between 3,000 and 5,100 metres. Dried flowers of this dwarf shrub are utilized as tea, and its branches are burned as incense in temples and on house altars. – In the lower picture, a man from the Gosainkund area of central Nepal shows a tray, filled with dried sun pathi flowers. (Photos copyright © by Kaj Halberg)
Most of the 30 Taiwanese rhododendron species display white, pinkish or violet flowers. Those of R. oldhamii, however, are a warm red. This species is found at lower altitudes, here photographed at Nanzen Lake, Kenting National Park. (Photo copyright © by Kaj Halberg)
Joseph Dalton Hooker (1817-1911) was a British botanist, who, during the period 1848-1850, described no less than 22 new rhododendron species from Sikkim. The gorgeous R. dalhousiae was named in honour of the wife of the governor-general at that time, Lady Dalhousie. This epiphytic species displays a profusion of lemon-coloured flowers, which later turn yellowish-white. It has a rather limited distribution, found from central Nepal eastwards to Arunachal Pradesh, north-eastern India. (Photo copyright © by Kaj Halberg)
R. lindleyi is another epiphyte, very similar to R. dalhousiae, but with pure white flowers. It is found in forests between eastern Nepal and Myanmar. This one was photographed in the Ghunsa Valley, eastern Nepal. (Photo copyright © by Kaj Halberg)
As its name implies, the Pacific rhododendron (R. macrophyllum) is distributed along the North American Pacific Coast, from Monterey Bay in California, north to British Columbia. It is mainly coastal, but is also found rather far inland in the Cascade Mountains of Oregon, Washington, and British Columbia. This one was photographed near Trinidad, California. (Photo copyright © by Kaj Halberg)
R. arboreum, in its widest sense, has an extensive distribution in Asia, from Pakistan eastwards to montane areas of northern Thailand and Vietnam, and with isolated populations in mountains of South India and Sri Lanka. The subspecies in South India is called Nilgiri rhododendron (R. arboreum ssp. nilagiricum), whereas the Sri Lanka rhododendron (R. arboreum ssp. zeylanicum) is sometimes regarded as a separate species, R. zeylanicum. – This picture shows Nilgiri rhododendron, photographed in the Nilgiri Mountains, Tamil Nadu. (Photo copyright © by Kaj Halberg)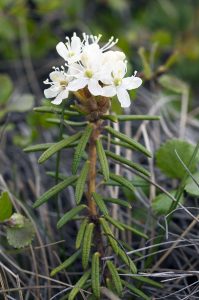 Formerly, species of Labrador tea, or muskeg tea, were placed in a separate genus, Ledum. However, recent DNA analyses have revealed that they are in fact rhododendrons. The upper picture shows northern Labrador tea (R. subarcticum), photographed on the Chukotka Peninsula, eastern Siberia. In former days, this species was known by various names: Ledum decumbens, L. palustre ssp. decumbens, and L. tomentosum. The lower picture shows western Labrador tea, or trapper's tea (R. neoglandulosum), observed in Kruse State Forest, California, United States. Previously, this species was called Ledum glandulosum. (Photos copyright © by Kaj Halberg)
The genus Rhodothamnus, which is very closely related to Rhododendron, comprises between 2 and 4 species, distributed from Europe across northern Asia to Kamchatka. The dwarf alpenrose (Rhodothamnus chamaecistus) is found in the central and eastern Alps. – Passo di Valparola, Dolomites, Italy. (Photo copyright © by Kaj Halberg)
(Uploaded August 2017)
(Revised continuously)