Boats
Dawn at the Ganges River, Varanasi, Uttar Pradesh, India. (Photo copyright © by Kaj Halberg)
Boats have been used since prehistoric times – maybe as early as a million years ago. The first 'boats' were probably floating tree trunks, on which early people were able to cross streams. The first manufactured boats were dugout canoes, made by hollowing out a tree trunk, using ax or fire, or both. The oldest excavated dugout canoes date from c. 8000 B.C., but dugouts must surely have been in use much earlier than that. Canoes, made from birch bark or animal hides, tied to a light wooden frame, were used at a very early stage in the Americas and in the Arctic.
Rafts are another very early type of boat. They are flat-bottomed vessels, consisting of light tree trunks, bamboo stems, bulrush (Schoenoplectus), papyrus (Cyperus papyrus), or reed (Phragmites australis), bound together with rope or bark strips. The earliest remains of a reed boat were excavated in Kuwait, dating back c. 7,000 years. Reed boats were common in Ancient Egypt and Mesopotamia, on Lake Titicaca, and probably also on Easter Island. They are still used by the Uru people on Lake Titicaca.
Large wooden boats, used in trade, were known in early times in numerous areas, e.g. in Europe (Viking ship), Arabia (dhow), India (uru), and China (junk). Herodotus (c. 484-425 B.C.) is the earliest historian to record the use of boats for military purposes.
(Most of the above information is borrowed from: en.wikipedia.org/wiki/Boat, q.v. regarding sources.)
The enormous variation in boat types around the Globe is evident in this collection of pictures.
Dugout canoes, the earliest constructed boat type, are still in use in many places. In this picture, a boy punts a dugout along a small stream near Gemena, Zaire. (Photo copyright © by Kaj Halberg)
Fishermen and dugout canoes, Lake Lutamba, southern Tanzania. The birds are hamerkop (Scopus umbretta), hoping for tidbits. (Photo copyright © by Kaj Halberg)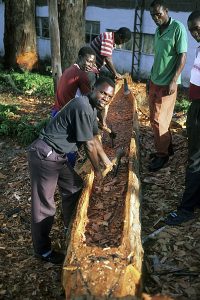 These men are carving a dug-out canoe from a eucalyptus trunk, Samfya, Zambia. (Photo copyright © by Kaj Halberg)
Rafts are another very early type of boat. On Lake Tana, Ethiopia, reed boats have been made from papyrus stems (Cyperus papyrus) since the 9th Century B.C., or earlier. The simplest type is merely a bundle of papyrus, tied together. This girl on Lake Tana punts a very basic type. (Photo copyright © by Kaj Halberg)
Papyrus boats, however, can also be of considerable size, carrying huge loads, as this one on Lake Tana, heavily laden with fodder. A huge growth of papyrus is seen in the background. (Photo copyright © by Kaj Halberg)
Reed boats were common in Ancient Egypt. This relief in the Horus Temple, Edfu, probably depicts a reed boat, highly swung at bow and stern, which are adorned with images of Horus, one of the most important deities of the Egyptian pantheon. Note that the image of the boat is repeated at a smaller scale. – The birds above the boat are griffon vultures (Gyps fulvus). (Photo copyright © by Kaj Halberg)
Another simple type of raft consists of bamboo stems, tied together. This picture shows a bamboo raft on the Li River, Guangxi Province, southern China. (Photo copyright © by Kaj Halberg)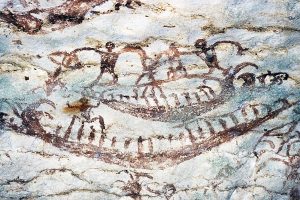 Ancient tribal cave painting, depicting people and boats, Painted Cave, Niah National Park, Sarawak, Borneo. (Photo copyright © by Kaj Halberg)
Bronze Age rock carvings are very common in Scandinavia. These carvings, depicting boats, are from Bohuslän, Sweden. In the lower picture, two men are in battle. The animal, depicted in the upper left corner, is a reindeer (Rangifer tarandus). (Photos copyright © by Kaj Halberg)
Herodotus (c. 484-425 B.C.) is the earliest historian to record the use of boats for military purposes. This relief at Angkor Thom, Cambodia, depicts Khmer warriors, paddling their boat into battle. (Photo copyright © by Kaj Halberg)
For thousands of years, Arabs were trading along the East African coast, sailing in their typical dhows – an ancient Arabian type of sailboat. Africans have adopted the dhow, and today you still see them in large numbers along the East African coast. This one was photographed near Somanga, Tanzania. (Photo copyright © by Kaj Halberg)
The Oseberg Ship is a very well-preserved Viking ship, unearthed in 1904 from a large burial mound near the Oseberg farm in Vestfold, Norway. It is thought to date from about 800 A.D. Today, it is displayed in the Vikingskipshuset (Museum of Viking Ships) in Oslo (top). The centre picture shows a carving near the stern of the Oseberg Ship, depicting the Midgard Serpent, or Jormungand, a giant, which has assumed the form of an enormous monster. The gods try to drown it by throwing it into the cosmic sea, but it merely winds itself around the entire Midgard (abode of humans), biting its own tail. A völva (a prophetess) has foretold that at Ragnarok, when the world comes to an end, Thor is going to fight a final battle with the Midgard Serpent, which he succeeds in killing, but he himself will succumb to the monster's poison. – In the bottom picture, a reconstructed Viking warship, called 'Havhingsten' ('Sea Stallion'), is rowed by volunteers near the Vikingeskibsmuseet (Museum of Viking Ships), Roskilde, Denmark. (Photos copyright © by Kaj Halberg)
This picture shows another ancient type of cargo boat, a Chinese junk, negotiating the Xi River, Guangdong Province, southern China. Rain clouds are looming on the horizon. (Photo copyright © by Kaj Halberg)
In Ancient Egypt, reed boats were succeeded by a small type of sailboat, the felucca, which is still a very common sight on the Nile. (Photos copyright © by Kaj Halberg)
For thousands of years, the Madan lived in the marshes of southern Iraq, until the regime of Saddam Hussein Abd al-Majid al-Tikriti (1979-2003) put an end to their way of life by draining the marshes, as a retaliation for the Madan siding with the Americans during the First Gulf War (1990-1991). – This picture shows a typical Madan village, with houses constructed of reeds (Phragmites australis). The common means of transportation in the marshes was a slender type of canoe, called meshof. The trees are date palms (Phoenix dactylifera). – Read more about this interesting wetland on this website, see Travel episodes: Iraq 1973 – The hospitable mudir, and Dust storm and sheep's head. (Photo copyright © by Kaj Halberg)
Madan children learned to paddle a canoe from a very young age. (Photo copyright © by Kaj Halberg)
Madan girl, harvesting reeds for cattle fodder, using a sickle. (Photo copyright © by Kaj Halberg)
Madan, sealing up leaks in a larger boat, a so-called belem (top). This boat type was used for transportation of large items, such as mats, made from reeds (bottom). (Photos copyright © by Kaj Halberg)
Early in history, people across the globe began living their entire life on board boats, the so-called house boats. The upper picture shows house boats on the Li River, Guangxi Province, southern China. The birds on the bamboo raft are tamed cormorants (Phalacrocorax carbo ssp. sinensis), which, for thousands of years, have been utilized by fishermen on this river for fishing (bottom). – Read more about this species on this website, see Silhouettes, and Vorsø on my mind: Night in the cormorant city. (Photos copyright © by Kaj Halberg)
House boats are a very common sight on the lakes of Kashmir, northern India. This man is trying his luck with a rod from his house boat on Dal Lake. (Photo copyright © by Kaj Halberg)
Muslim family in their house boat, Srinagar, Kashmir. Note the hookah (water pipe) in the foreground. Using the attached tweezer, you take a piece of burning charcoal to light the pipe. (Photo copyright © by Kaj Halberg)
When the English were ruling in India, they would escape from the blazing summer heat on the North Indian plains by retiring to the highlands further north. One of their favourite places was Kashmir, where the locals made an income from renting out house boats to the English. This practice was continued after India's independence, when wealthy Indians – and later Western tourists – copied the English. This picture shows an elegant house boat on Lake Nagin. The tree to the left is an Oriental planetree (Platanus orientalis), displaying brilliant autumn foliage. – Read more about plane trees elsewhere on this website, see Plants: Ancient and huge trees. (Photo copyright © by Kaj Halberg)
An outrigger is a boat with a slender log, placed parallel to the main hull on one side and attached to it by two curved branches, making the boat more stable in windy conditions. If a log is placed on both sides of the boat, its stability naturally increases. These pictures show three outriggers. – Fishermen, putting up a net near Batangas, Luzon, Philippines (top). – Fishermen, dragging their boat ashore, Colva Beach, Goa, India (centre). – Outrigger with a sail, Sumbawa, Indonesia (bottom). (Photos copyright © by Kaj Halberg)
Fishing vessel, reflected in water, Nexø Harbour, Bornholm, Denmark. (Photo copyright © by Kaj Halberg)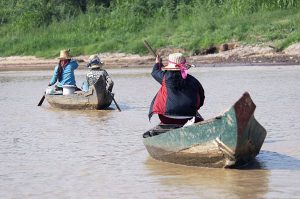 Women, paddling boats down a river near Lake Tonle Sap, Cambodia. (Photo copyright © by Kaj Halberg)
The day's catch, Lochinwar National Park, Zambia. (Photo copyright © by Kaj Halberg)
Tiny passenger boats ply the Rio Suerte, Costa Rica. The heavily loaded cargo boat to the right capsized a few minutes after leaving the quay! (Photo copyright © by Kaj Halberg)
Sailboat on the Seine River, Paris. (Photo copyright © by Kaj Halberg)
Ferry boat, bringing passengers across the Ganges River, Varanasi, Uttar Pradesh, India. (Photo copyright © by Kaj Halberg)
Fishermen, cleaning their net, Padang Bai, Bali, Indonesia. (Photo copyright © by Kaj Halberg)
Morning fog on the Rapti River, southern Nepal, where a man punts a tiny canoe ferry, holding a single passenger, across the river. (Photo copyright © by Kaj Halberg)
In certain fishing societies in Taiwan, people still celebrate the Boat Burning Festival, a Daoist festival, during which a complete wooden boat is built, only to be burned as an offering to the god of diseases, Wang-yeh, hoping that he will spare the people of the plague and other dreadful diseases. In former times, the burning boat was pushed out to sea, ceremonially carrying the diseases away, but this practice has now been abandoned, and the boat is burned on land. Before the burning, people give offerings of fake paper money to the god, throwing bundles of them on board the boat (3rd picture). The festival, shown on these pictures, took place in Jiading, near Kaoshiung. – Read more about Daoism on this website, see Religion: Daoism in Taiwan. (Photos copyright © by Kaj Halberg)
On the island of Siao Liouchou, Taiwan, the practice of burning a boat during the Boat Burning Festival has been abandoned, and instead fishermen place an image of Wang-yeh, or another local god, on board their vessel, whereupon they circumnavigate the island, hoping that this will suffice. During the circumnavigation, fireworks are ignited. Later in the day, people carry countless palanquins, containing images of local gods, to the beach to perform a ritual cleaning of the palanquin and its image in the sea water, while men blow on long brass horns. (Photos copyright © by Kaj Halberg)
'Fungie' is the name of a confiding male bottlenose dolphin (Tursiops truncates), which has been in close contact with people in and around Dingle Harbour, Ireland, since 1983. (Photo copyright © by Kaj Halberg)
Combined passenger and cargo boat, plying the waters of Lago Atitlan, Guatemala. (Photo copyright © by Kaj Halberg)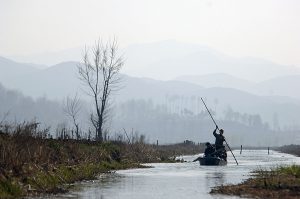 Punting a boat along a watercourse at the outskirts of a large marshland, named Cao Hai ('Grass Sea'), Guizhou Province, China. (Photo copyright © by Kaj Halberg)
Fisherman, wading out to his boat, Nissum Fjord, Denmark. (Photo copyright © by Kaj Halberg)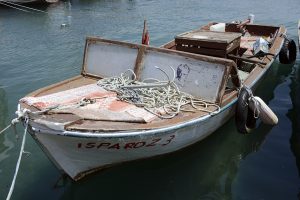 Tiny fishing vessel, Mordogan, Karaburun Peninsula, near Izmir, Turkey. Note the faded image of Mustafa Kemal Atatürk, birth name Ali Rıza oğlu Mustafa (1881-1938), who was the founder of the Republic of Turkey and its first president 1923-1938. (Photo copyright © by Kaj Halberg)
Fisherman, cleaning a net on board his vessel, Wushe Fishing Harbour, eastern Taiwan. (Photo copyright © by Kaj Halberg)
At the floating market in Damnoensaduak, Thailand, people sell meals, vegetables, fruits, and various other items from their boats. (Photos copyright © by Kaj Halberg)
Small boy – large canoe, Lake Nagin, Kashmir, India. (Photo copyright © by Kaj Halberg)
Repairing a dug-out canoe by filling it with water to soften it, which makes it possible to reshape it. Coconuts are added to take up space, so that less water has to be poured into the boat. – Itsoundzou, Grande Comore, Comoro Islands. (Photo copyright © by Kaj Halberg)
Looking up from the cockpit of a sailboat, Denmark. (Photo copyright © by Kaj Halberg)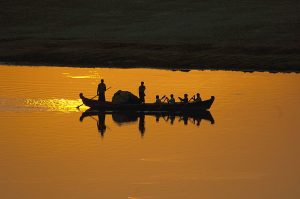 Sunset on the Ayeyarwadi (Irrawaddy) River, Bagan, Myanmar. (Photo copyright © by Kaj Halberg)
Punan tribals, punting their canoes, called perahu, up the Ba River, a tributary to the mighty Rajang River, Sarawak, Borneo. – Read more about the Punan people on this website, see Travel episodes: Borneo 1975 – Canoe trip with Punan tribals. (Photos copyright © by Kaj Halberg)
The only mode of transportation for the Unga people, living in the Bangweulu Swamps of northern Zambia, is by boat. This boy is punting a canoe along a channel in a papyrus swamp (top). – Unga man and boys, hauling up a fishing net (centre). – Unga men, bringing a load of dried fish to a market near the swamps (bottom). – Read more about this interesting wetland on this website, see Countries and places: Bangweulu – where water meets the sky. (Photos copyright © by Kaj Halberg)
Colourful fishing vessels, Wushe Fishing Harbour, eastern Taiwan. (Photo copyright © by Kaj Halberg)
Sewing a sail, Kuwait. (Photo copyright © by Kaj Halberg)
School children, crossing the Chao Phraya River, Bangkok, Thailand, on board a ferry. (Photo copyright © by Kaj Halberg)
Women, fishing up water plants, to be used as fodder for their cattle, Phewa Lake, Pokhara, Nepal. (Photos copyright © by Kaj Halberg)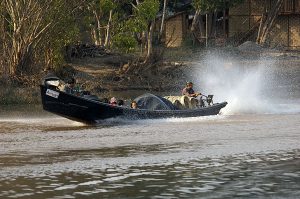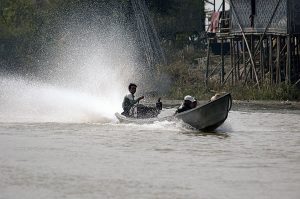 This canal is the main thoroughfare through the town of Nyaung Shwe, Lake Inle, Myanmar. Transportation of passengers and goods mainly take place in longboats with outboard engines, whisking the water into high plumes. (Photos copyright © by Kaj Halberg)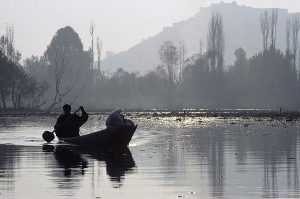 In the Kashmir Valley, northern India, lakes and canals form important waterways for transportation of goods. Early in the morning, this man is paddling his boat across Dal Lake (top). Boats on one of the main channels through the city of Srinagar (bottom). (Photos copyright © by Kaj Halberg)
Canoe, negotiating rapids on the Oubangui River, Central African Republic. The land on the far side of the river is part of Zaire. (Photo copyright © by Kaj Halberg)
Nowadays, most fishing vessels in Denmark are anchored in harbours. A few places, though, like here at Torup Strand, Jutland, fishermen still haul their boats ashore, using huge winches. (Photo copyright © by Kaj Halberg)
Fisherman, hauling his boat through the surf, Hambantota, Sri Lanka. (Photo copyright © by Kaj Halberg)
At dawn, this boat passes Cape of Good Hope, South Africa, bringing bird watchers out to watch seabirds. (Photo copyright © by Kaj Halberg)
Vietnamese village, a 'floating village', in which the houses are built on rafts or pontoons, Lake Tonle Sap, Cambodia. (Photos copyright © by Kaj Halberg)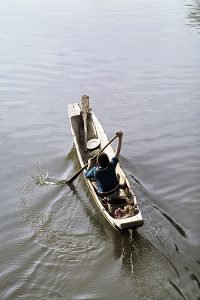 Batak tribal boy, paddling a canoe, Pangururan, Samosir, Sumatra, Indonesia. (Photo copyright © by Kaj Halberg)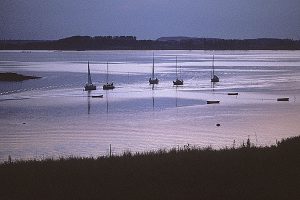 Sail boats, returning to their anchorage in the evening, Roskilde Fjord, Denmark. (Photo copyright © by Kaj Halberg)
Boats on the Ganges River at dawn, Varanasi, Uttar Pradesh, India. (Photo copyright © by Kaj Halberg)
This Inthe man from the village of Nanthe, Lake Inle, Myanmar, brings home a huge load of grass, paddling his canoe with one leg – a style typical of this area. (Photo copyright © by Kaj Halberg)
This fisherman in Jaffna, Sri Lanka, is emptying his canoe of water, using a buoy, cut in half. (Photo copyright © by Kaj Halberg)
These fishing vessels in Wushe Fishing Harbour, eastern Taiwan, are constructed of metal pipes, bent up at bow and stern. The fender is an old car tyre. (Photos copyright © by Kaj Halberg)
This boy has paddled his canoe, laden with a few mango fruits, out to a ferry on Lake Malawi, and now a furious haggling over the price will begin. – Read more about Lake Malawi on this website, see Travel episodes: Malawi 1997 – A three-day ferry cruise on Lake Malawi. (Photo copyright © by Kaj Halberg)
River barge and rowing boat in morning mist, Ganges River, Varanasi, Uttar Pradesh, India. (Photo copyright © by Kaj Halberg)
Crowded ferry boat on the Li River, Guangxi Province, southern China. (Photo copyright © by Kaj Halberg)
When this fishing vessel in Lambert's Bay, South Africa, had been abandoned for some time, it was taken over by Cape cormorants (Phalacrocorax capensis), which built nests several places on the vessel. (Photo copyright © by Kaj Halberg)
Fishing boat, returning to Senggigi, Lombok, Indonesia. (Photo copyright © by Kaj Halberg)
This Hindu makes a living, rowing tourists up and down the Ganges River, Varanasi, Uttar Pradesh, India. (Photo copyright © by Kaj Halberg)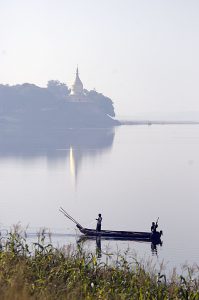 Boat on the Ayeyarwadi (Irrawaddy) River, Bagan, Myanmar. The Buddhist Lawkananda Pagoda is seen in the background. (Photo copyright © by Kaj Halberg)
Boat builder, shaping a plank for his boat, Phuket, Thailand. (Photo copyright © by Kaj Halberg)
Movable grocery store. – This vendor is paddling his boat, laden with goods, from one houseboat to the next, Lake Nagin, Kashmir, India. (Photo copyright © by Kaj Halberg)
Fisherman, hauling up his net, Bangweulu Swamps, northern Zambia. – Read more about this interesting wetland on this website, see Countries and places: Bangweulu – where water meets the sky. (Photo copyright © by Kaj Halberg)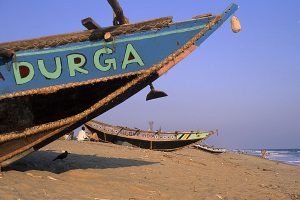 At dawn, fishermen push their boat out to sea, Puri, Odisha (Orissa), eastern India. The boats in this area are caulked by stitching grass bundles on the outside of the hull. Durga – also known by the names Parvati, Devi, Uma, or Kali – is the most important goddess in the Hindu pantheon. (Photos copyright © by Kaj Halberg)
Anchored pleasure boats on a calm day, Christianshavns Kanal, Copenhagen, Denmark. (Photo copyright © by Kaj Halberg)
Tourists, enjoying a boat trip down the Rapti River, searching for crocodiles, Chitwan National Park, Nepal. (Photo copyright © by Kaj Halberg)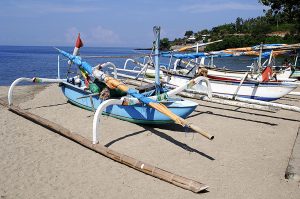 Outrigger fishing boats, painted in gay colours, Senggigi, Lombok, Indonesia. (Photo copyright © by Kaj Halberg)
Boys of the Unga tribe, living in the Bangweulu Swamps, Zambia, made this toy boat out of clay. (Photo copyright © by Kaj Halberg)
Women, collecting water lilies (Nymphaea) for fodder, Dal Lake, Kashmir, India. (Photo copyright © by Kaj Halberg)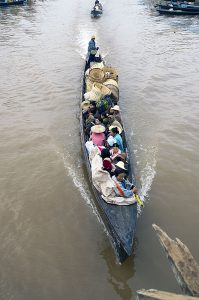 Crowded passenger boat on the main canal through the town of Nyaung Shwe, Lake Inle, Myanmar. (Photo copyright © by Kaj Halberg)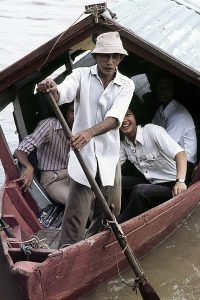 This passenger boat, a so-called sampan, is paddled across a river in the town of Kuching, Sarawak, Borneo. (Photo copyright © by Kaj Halberg)
Fisherman in an outrigger, checking his fish trap, which is made from split bamboo stems, Lake Bolgoda, Sri Lanka. (Photo copyright © by Kaj Halberg)
Man, paddling a dug-out canoe, Otter Point, Lake Malawi. (Photo copyright © by Kaj Halberg)
Kuttanad, or backwaters, is a huge wetland in the South Indian state Kerala. This large boat, of a type called kettu vallam, is laden with fodder. It is being driven forward, using either a sail, or punting with a long bamboo pole (top). The trees are coconut palms (Cocos nucifera) – a very common tree in this area, utilized for countless purposes. Some kettu vallams are rebuilt as luxury boats, transporting tourists around in the wetland (bottom). (Photos copyright © by Kaj Halberg)
(Uploaded September 2017)
(Revised continuously)