India 1991: Attending Hindu festivals in Rajasthan
People and streets in Charbhuja were covered in a thin layer of red powder. (Photo copyright © by Kaj Halberg)
Udaipur is a delightful city in southern Rajasthan, India, situated around the gorgeous Pichola Lake. As early as the 10th Century, the Hindu Mewar Rajputs established a town here, named Ayad, which became a thriving trading centre.
Udaipur was founded in 1559 during the reign of Maharana Udai Singh II, the ruler of Chittorgarh, further north. Chittorgarh, situated in a flat tableland, was vulnerable to attacks from the Maharana's enemies, notably Muslims, who had conquered parts of northern India. Following the emergence of artillery warfare in the 16th century, Udai Singh decided to move his capital to a more secure location, choosing Ayad.
However, as Ayad was prone to flooding, he decided to establish his new capital on a ridge east of the Pichola Lake, and to protect the new city from attacks, he ordered a wall, 6 km long and with seven gates, to be built around the city. Today, Udaipur is a treasure trove of Mewar architecture, notably a number of palaces, of which two were built on islands in the lake.
The history of the Rajputs is related on the page Travel episodes – India 1986: "His name is Muhammed!"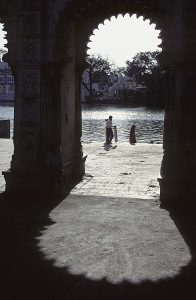 Udaipur is a delightful city, situated around the gorgeous Pichola Lake. (Photos copyright © by Kaj Halberg)
Two palaces were built on islands in Pichola Lake. This picture shows Jag Niwas, popularly called 'The Lake Palace'. (Photo copyright © by Kaj Halberg)
Festival of Colours
Together with three friends, Ann-Christine and Hans Lomosse from Sweden, and Søren Lauridsen from Denmark, I roam the streets of this interesting city early in the morning, watching it come alive.
Some days later, we get on friendly terms with an elderly Indian, Sohan Lal, a sparkling and talkative man around 60 years of age, who kindly invites us to join him in his roomy car to go further north in Rajasthan, to the small town of Charbhuja, where an interesting festival is taking place – in reality a continuation of the Holi Festival, which was celebrated ostentatiously about a week prior.
Holi is a spring festival, dedicated to the Hindu god Krishna, and to the victory of good over evil – a gay festival, in which people, regardless of caste, pelt each other with red, yellow, purple, or green powders, or with water, dyed with these powders. For this reason, Holi has been dubbed 'Festival of Colours'.
In Charbhuja and surroundings, Holi is a very important festival, which lasts no less than 15 days, during which period the various villages of the area are host by turns. Sohan Lal intends to go to his ancestral area to participate in the conclusion of Holi.
Ann-Christine, Hans, and I gladly accept his offer to take us along. After the festival, we intend to make a visit to Khumbalgarh Wildlife Sanctuary, situated near Charbhuja. We have heard that you can stay in a former Maharaja palace near the sanctuary.
This elderly man greeted us with a friendly smile. (Photo copyright © by Kaj Halberg)
Removal of refuse in Udaipur. Woman, sweeping a street (top). Garbage collectors pass zebu oxen, eating garbage. (Photos copyright © by Kaj Halberg)
This dog has found a peaceful resting place in a cavity in a wall. (Photo copyright © by Kaj Halberg)
Everything is red
Some of Sohan Lal's friends join us in the car – a merry crowd, who is talking, laughing and joking during the entire journey. Late in the afternoon, we pass several motorcyclists, who brighten up the landscape, as they are covered in red dye from top to bottom – an indication that we are approaching Charbhuja.
Worried, my Swedish friends ask Sohan Lal, if he thinks that we'll get our share of the dye, but he assures us that he will be able to find a safe place for us.
We park the car at the outskirts of town and walk along its narrow lanes to a Vishnu temple in the centre. The streets are covered in a thin layer of red powder, with a splash of purple and green here and there, and everybody has had his or her fair share of the dye on the clothes, in the face, and in the hair.
Sohan Lal brings us to a house opposite the temple. From its balcony, we are able to watch the fun and take as many pictures as we wish. The square in front of the temple is packed with people, and several men are dancing on a small platform, accompanied by drums and tablas (small finger drums). At the entrance to the temple, the air is filled with red dust, as a couple of young men throw dye on each and every person, entering or leaving the temple.
All the people we met, had had their fair share of the red dye. (Photo copyright © by Kaj Halberg)
At the entrance to the temple, a couple of young men were throwing dye on each and every person. (Photo copyright © by Kaj Halberg)
I get my share
It doesn't take long, before people below catch sight of us, and a girl, sitting on a platform across the lane, starts throwing small balls of dye at us. Suddenly, the door of the balcony is opened with a bang, and an elderly man, carrying a small bag in his hand, enters.
When he starts throwing dye on us, the Swedes flee into the house, while I merely hide my camera on my back. The man now takes a handful of dye, smearing it into my hair and beard. I am of the opinion, that if you want to participate in the fun, you must take the rough with the smooth, so I just let him do it.
The girl across the street is still throwing of dye at me, and finally I think I have to step in. I run down into the street, grab a little powder from a person, passing by, and throw it into the face of the girl, resulting in everybody throwing dye at me from all sides. My camera is hidden under my T-shirt, but nevertheless it looks awful, covered in powder. Luckily, it still works!
The merry crowd invites me to join them into the temple, where I am met by a fantastic sight: the women are sitting at one side, dressed in their best finery, whereas the men are sitting at the other side, almost all of them wearing a red or yellow turban.
The atmosphere here is indeed intense, the temple resounding with music from drums and cymbals, and red dust filling the air. My spirits are high, when I rejoin Hans and Christine, but on seeing me, they declare that I look terrible!
This girl was throwing balls of red dye at me. (Photo copyright © by Kaj Halberg)
Almost all the men wore a red or yellow turban. (Photo copyright © by Kaj Halberg)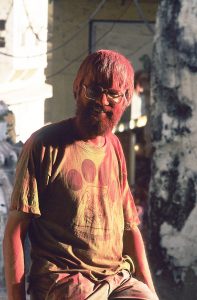 This is how I looked after participating in the fun. (Photo Ann-Christine Lomosse, copyright © by Kaj Halberg)
A snobbish Maharaja
My Swedish friends would like to go to Kumbhalgarh Wildlife Sanctuary the same day, so we rent a jeep and driver for a hundred Rupees. Our trip brings us across low, forest-clad hills and down into a small plain, to the small town of Ghanerao, quite close to the reserve. To our dismay, we learn that the Maharaja palace is not situated at the outskirts of the reserve, but in town.
We now encounter the owner of the hotel, a son of the former Maharaja. I didn't have time to take a bath, so I am still smeared in red dye from the fun in Charbhuja. In a rather arrogant tone of voice, he informs us that we can have a room for three persons – for the tidy sum of 350 Rupees! And our dinner is going to cost 50 Rs. per person.
Meanwhile, it has become pitch-dark outside, so we feel that we have no choice but to stay here. A servant brings us to a very spartan room, which, anywhere else in India, would have cost 10 Rs. per person. The distance to the bathroom is 20 m, the drain in it is blocked, and the toilet is unable to flush.
Despite the primitive facilities, we have a refreshing shower, before we go to eat our dinner. Prior to the meal, we have a conversation with the Maharaja's son, sitting in a much nicer room. Yes, he can easily arrange a car for us to go into the reserve at 6 o'clock. His knowledge of the wildlife of the sanctuary is quite good, as his father used to own the area, which was his private hunting ground.
The conversation mainly takes place between him and the Swedes, as he seems to be of the opinion that my humble self is below his sphere of interest, despite the fact that in the meantime I have had a bath and am now wearing clean clothes.
However, he pricks up his ears, when the Swedes, untruthfully, inform him that I am collecting information to write a guide book on Rajasthan. (Well, Søren is collecting information for a travel guide book on India, but it was never his intention to include Kumbhalgarh in it.)
Now the attitude of the young Maharaja suddenly changes. Earlier, he has confided in us that he needs larger focus on his hotel, as he doesn't have enough income to maintain his palace. He brings us to a beautiful and tasteful room, which is adorned with an enormous canopy bed, offering us this room for the same price as for the dump we were given earlier. Somewhat carelessly, he admits that the dump is in fact part of the staff quarters!
Our meal is served in a huge hall, adorned with weapons and family photos, yellowed with age. The food is nothing to write home about, but we are very hungry and fall to.
Visiting Kumbhalgarh
The following morning at 6 o'clock, our car arrives as planned, but, unfortunately, it turns out to be an Ambassador – otherwise an excellent car, but completely unsuitable for bad gravel roads. We feel that our chances of seeing Indian wolves – the main attraction of the sanctuary – dwindle to almost nil.
As the day dawns, a beautiful landscape emerges through the mist: steep, forest-clad mountains, where rivers, over the millennia, have cut deep valleys.
Our Ambassador is a coughing wreck, and when the road gets steeper, it almost comes to a standstill. We must leave the car and proceed on foot the rest of the way to a Forest Rest House, beautifully situated at a reservoir, in which various birds are feeding, including little cormorant (Phalacrocorax niger), pond heron (Ardeola grayii), and striated heron (Butorides striata). Along the road, we notice birds like grey junglefowl (Gallus sonneratii), plum-headed parakeet (Psittacula cyanocephala), and slender-billed vulture (Gyps tenuirostris). We observe no mammals at all.
Rather disappointed with the result of our trip, we return to the palace, where we complain to the hotel owner. He maintains, however, that it had been impossible to rent a jeep, which we find rather odd, as we saw several of the kind in Ghanerao the day before. Following further discussion, he agrees to charge us only a total of 300 Rs. for our stay, including the meal.
In Khumbalgarh, we observed a number of birds, including plum-headed parakeet. (Photo copyright © by Kaj Halberg)
Hindu New Year
Back in Charbhuja, we notice Sohan Lal's car, but of he himself there is no trace. We have arranged to meet him at a temple, dedicated to the monkey god Hanuman, a couple of kilometres out of town, so thither we trudge in the midday heat, sweat pouring down our faces. Shortly after, Sohan Lal arrives, in an excellent mood and obviously happy to see us again. He arranges that we can get a room in an ashram just across the road from the temple.
This evening, he informs us, in the nearby town of Sevantri, a huge festival is going to take place in a Vishnu temple, celebrating the conclusion of the old Hindu year and the beginning of 2049, according to the Hindu calendar. Off we go in his car to Sevantri, and beneath a huge banyan fig (Ficus benghalensis), he now commences to cook enormous amounts of food. People, passing us on their way to a nearby temple, are very friendly, greeting us with nice smiles. Having enjoyed a delicious meal, we rest beneath the fig tree for some time, talking with Sohan Lal.
After dark, we head for the Vishnu temple, where the New Year is celebrated with music and dancing. To the immense relief of my Swedish friends, they learn that no more throwing of dyes is going to take place!
Inside the temple, a group of men are performing a stick dance, in which the rhythm is dictated by a man, beating an irregular measure on a drum, while another man is beating a regular measure on a large brass cymbal, once in a while accompanied by a huge, twisted horn, producing a braying sound.
Initially, the speed is slow, and the men, in twos, walk in circles, in and out between each other, beating their two sticks simultaneously on their partner's sticks, and on the sticks of the men behind them and in front of them. This procedure produces a rhythm, which can be expressed thus: 'clack' – step – 'clack' – step – 'clack-clack-clack'.
The speed is gradually increased, and the dance gets wilder and wilder, as more men join the ring, which now occupies most of the temple hall. Spell-bound, we join the rhythm, stomping our feet and clapping our hands. Sohan Lal informs us that the purpose of this dance is to produce sweat on the entire body, allowing the accumulated sins of the old year to leave the body.
People in Sevantri were very friendly, greeting us with nice smiles. (Photos copyright © by Kaj Halberg)
Stick dance in Sevantri. (Photo copyright © by Kaj Halberg)
Welcome guests
The evening is concluded in the Vishnu temple in Charbhuja, where a group of women are singing in front of the Vishnu image. A priest now ignites numerous candles, placing them in a large tray, which is then moved up and down and left and right in front of the image, while men are beating a drum and a cymbal furiously.
We participate in a puja (worship), in which we march past the priest, who hands out sugary water to everybody, of which a small part is drunk, while the rest is smeared into your hair.
Tired, but happy, we return to the ashram, where we immediately fall asleep, despite a noisy puja taking place in the Hanuman temple across the road.
The following morning, numerous people arrive from near and far, wearing their best finery, to celebrate New Year in the Hanuman temple. At the entrance, people are dancing around, accompanied by music from various instruments. The noise produced is incredible.
As usual, we are invited inside the temple, where several elderly priests receive us most courteously. It is indeed pleasant to participate in a festival, where you don't feel as an intruder, but as a welcome guest!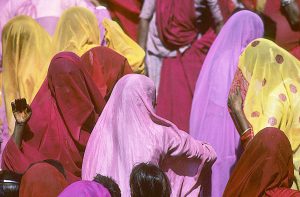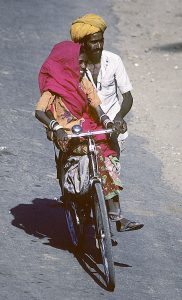 Wearing their finest clothes, people arrived from near and far to celebrate Hindu New Year at the Hanuman temple. (Photos copyright © by Kaj Halberg)
At the temple entrance, people were dancing around, accompanied by music from various instruments. (Photos copyright © by Kaj Halberg)
Inside the Hanuman temple, several elderly priests received us most courteously. (Photo copyright © by Kaj Halberg)
(Uploaded August 2017)
(Latest update August 2019)