Folk art around the world
On this page, a collection of folk art from various countries is shown. Pictures of the rich and varied Taiwanese folk art are presented on a separate page, see Culture: Folk art of Taiwan.
In arid desert regions around the world, you often encounter rock walls or boulders, whose surface is covered by a thin, black or reddish-brown layer, maybe as thin as one hundredth of a millimeter, which, over thousands of years, has been formed by microscopic bacteria, living on the rock surface. These bacteria absorb tiny amounts of manganese and iron from the atmosphere, depositing it as a black layer of manganese oxide or a reddish layer of iron oxide on the rock. This layer also includes clay particles, which help to shield the bacteria against drought, extreme heat, and intense solar radiation. (Source: desertusa.com/desert-minerals/desert-varnish)
The popular name of this thin layer is desert varnish. Into this 'varnish', various prehistoric peoples around the world have created artwork by scraping off a part of the varnish, leaving white images on a black or reddish background. Below, examples of such artwork is presented.
Near Saspol, Ladakh, northern India, many boulders are lying helter-skelter, some of which have been decorated with images, carved into the desert varnish, depicting various subjects, including hunters, Siberian ibex (Capra sibirica), birds, and stupas – testimony to bygone hunters and to Buddhists. (Photos copyright © by Kaj Halberg)
Newspaper Rock State Historic Monument is a rock panel, located in San Juan County, Utah, is carved with one of the largest known collections of Native American petroglyphs, depicting e.g. mule deer (Odocoileus hemionus), bighorn sheep (Ovis canadensis), bison (Bos bison), hunters, shamans, and footprints (of bears?). (Photos copyright © by Kaj Halberg)
Another collection of carvings, also called Newspaper Rock, comprising more than 650 images, is situated in Puerco River Valley, Petrified Forest National Park, Arizona. These images are a bit more stylistic than the ones in Utah. In the lower picture, a huge bird is possibly piercing a person with its scimitar-like bill. (Photos copyright © by Kaj Halberg)
'Bird cage', constructed of prickly rose stems, Zealand, Denmark. (Photo copyright © by Kaj Halberg)
Mural in the village of Prtovč, Triglavski National Park, Slovenia, depicting the legend of Saint George, killing the dragon – in this case a manageable task, considering the size of the dragon. (Photo copyright © by Kaj Halberg)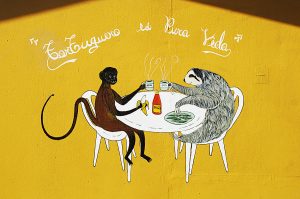 Wall painting in Tortuguero National Park, Limón, Costa Rica, depicting a golden-mantled howler monkey (Alouatta palliata ssp. palliata) and a brown-throated three-toed sloth (Bradypus variegatus), with the following slogan, 'Tortuguero es pura vida' ('Tortuguero is pure life'). (Photo copyright © by Kaj Halberg)
This wooden Chihuahua is used in a puppet show, performed by Phuket Marionette, a Thai puppet marionette group. (Photo copyright © by Kaj Halberg)
These branches with knots have been shaped to form E.T. and a cat, Öland, Sweden. (Photo copyright © by Kaj Halberg)
House wall in the Batak village of Lingga, Sumatra, Indonesia, made from woven mats, which have been painted in vivid colours. (Photo copyright © by Kaj Halberg)
Kitschy art in the Lesser Saint Bernard Pass, on the border between Italy and France: A Saint Bernard dog, made from gypsum or cement. In the background another sculpture, depicting a French police officer, complete with the red cap, the kepi. (Photo copyright © by Kaj Halberg)
Frog band, Istanbul, Turkey. (Photo copyright © by Kaj Halberg)
Wall painting in Valparaiso, Chile, depicting hummingbirds and a lady with flowers of frangipani (Plumeria rubra) in her hair. This tree is native to Mexico, Central America, and northernmost South America, but has been introduced to almost all tropical and subtropical countries as an ornamental. Another name of the plant is temple tree, as it is often planted near Buddhist and Hindu temples. (Photo copyright © by Kaj Halberg)
This scarecrow, complete with shoes, scarf, and umbrella, was seen in the central highlands of Sri Lanka. (Photo copyright © by Kaj Halberg)
Life-size dummies, depicting an elderly farmer couple, Passo delle Erbe (Börz Würzjoch), Dolomites, Italy. (Photo copyright © by Kaj Halberg)
A monkey, carved out of a coconut husk, is displayed to attract buyers' attention to conches, which are for sale in the bazaar, Haridwar, Uttarakhand, India. (Photo copyright © by Kaj Halberg)
Near the town of Garberville, California, I passed a storage place for hundreds of kitschy wood carvings. These pictures show four examples: Native American with war paint; Pinocchio and the fairy; a friendly bear; and the famous 'Bigfoot', a creature like the Himalayan Yeti – a giant, human-like ape, which supposedly roams the forests of western United States. (Photos copyright © by Kaj Halberg)
Mural, depicting a boxing match, Haverhill, Massachusetts, United States. (Photo copyright © by Kaj Halberg)
'Look and decide!' – Along many trails in the Himalaya, you find interesting information boards, painted by local artists, showing hiking trails, mountains, rivers, villages, and a selection of the local wildlife. These three boards were all encountered in the Modi Khola Valley, Annapurna, Nepal. In the upper picture, the board depicts a Himalayan tahr (Hemitragus jemlahicus), a leopard (Panthera pardus), and a creature, which is probably a snow leopard (Uncia uncia), looking, however, more like a hybrid between a leopard and a tiger (Panthera tigris). – The board in the centre depicts mountains, a dancing couple, and a pair of kalij pheasants (Lophura leucomelanos), while the bottom one depicts a pale-armed langur (Semnopithecus schistaceus), playing a tabla. – Read about langurs, as well as many other monkeys, elsewhere on this website, see Animals: Monkeys and apes. (Photos copyright © by Kaj Halberg)
Sculpture, depicting a fisherman, holding a gilt-headed bream (Sparus aurata), Mordogan, Karaburun Peninsula, near Izmir, Turkey. (Photo copyright © by Kaj Halberg)
Using a little paint and a cow bell, the end of this curved branch has been made into a friendly cow. – Gran Paradiso National Park, Italy. (Photo copyright © by Kaj Halberg)
Drawing, depicting a butterfly, sucking from a hibiscus flower, made by a Sri Lankan village boy. (Photo copyright © by Kaj Halberg)
Wall painting in an abandoned house in Chile, depicting a caricature of Augusto José Ramón Pinochet Ugarte (1915-2006), who was the dictator of Chile between 1973 and 1990. His nickname was Pinocchio. (Photo copyright © by Kaj Halberg)
Rusted entrance gate to an abandoned farm, the 'Quail Rock Ranch', depicting a family of California quail (Callipepla californica), Mohave National Preserve, California, United States. (Photo copyright © by Kaj Halberg)
Three sculptures in the town of Ubud, Bali, Indonesia, depicting long-tailed macaques (Macaca fascicularis), which are numerous around the nearby Wenara Wana Temple, popularly called 'Monkey Forest'. The sculptures depict a monkey playing cymbals, another one driving a motorbike, and a pregnant female. The motorcyclist has been adorned with a marigold flower. – Read more about long-tailed macaques, as well as many other monkeys, elsewhere on this website, see Animals: Monkeys and apes. (Photos copyright © by Kaj Halberg)
Giant sculpture, depicting a sailor kissing his girlfriend goodbye, San Diego, California, United States. (Photo copyright © by Kaj Halberg)
Decorated letter boxes, Pataholm, south of Oscarshamn, southern Sweden. (Photo copyright © by Kaj Halberg)
Figures of a man and dogs, adorning a garden wall, Rønne, Bornholm, Denmark. (Photo copyright © by Kaj Halberg)
Sculpture on a roof top in Mendocino, California, United States, depicting the Death Angel, tugging the hair of a woman. A western gull (Larus occidentalis) is sitting on the head of the woman – perhaps waiting to see what happens? – Note the hourglass. (Photo copyright © by Kaj Halberg)
Wall painting in an abandoned house in Chile, depicting a naked lady. (Photo copyright © by Kaj Halberg)
This house wall in the village of Saint Rhémy, Aosta Valley, Italy, has been adorned with a carving of an edelweiss and a Saint Bernard dog. (Photo copyright © by Kaj Halberg)
Kitschy wood carving, depicting a fight between a bald eagle (Haliaeetus leucocephalus) and a mountain lion (Puma concolor), Leggett, California, United States. (Photo copyright © by Kaj Halberg)
Painting on a church wall in Puerto Jiménez, Peninsula de Osa, Costa Rica, depicting St. Francis of Assisi with a white horse and a scarlet macaw (Ara macao). The latter was hardly known in Italy in those days! (Photo copyright © by Kaj Halberg)
Folk art, made from an old scooter and rubber boots, Karapinar, east of Konya, Turkey. (Photos copyright © by Kaj Halberg)
Wood carving, depicting a Native American, Leggett, California, United States. (Photo copyright © by Kaj Halberg)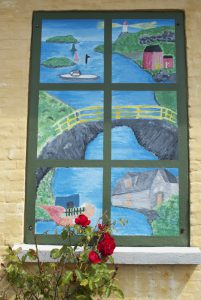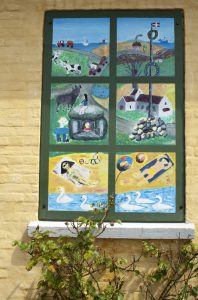 School windows, decorated by children, Lyø, Funen, Denmark. (Photos copyright © by Kaj Halberg)
Wall painting in the city of Haverhill, Massachusetts, United States, depicting the former hard life of female sewers in a factory. (Photo copyright © by Kaj Halberg)
Kitschy art in a village, Plan Cerisier, Rhone Valley, Switzerland: Owl and boy. (Photo copyright © by Kaj Halberg)
A tragic story is hidden behind this kitschy painting in a road altar in the village of Saletto, Chiusaforte, northern Italy. This altar was constructed to commemorate a 16-year-old girl, Maria Cesare, who perished in the mountains on September 6, 1824. (Photo copyright © by Kaj Halberg)
Fleeting street art: A man writes Chinese characters with water on the pavement, Guiyang, Guizhou Province, China. (Photo copyright © by Kaj Halberg)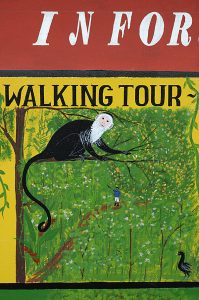 This sign outside a tour agency in Tortuguero National Park, Limón, Costa Rica, advertising jungle trips, uses a white-headed capuchin (Cebus capucinus) and a great curassow (Crax rubra) as eye-catchers. (Photo copyright © by Kaj Halberg)
Kitschy souvenirs for sale, Ubud, Bali, Indonesia. (Photo copyright © by Kaj Halberg)
Wall painting, Valparaiso, Chile. (Photo copyright © by Kaj Halberg)
Kitschy folk art, Haverhill, Massachusetts, United States. (Photo copyright © by Kaj Halberg)
Worn-out scythes, used as decoration, Passo delle Erbe (Börz Würzjoch), Dolomites, Italy. (Photo copyright © by Kaj Halberg)
Wall painting, depicting a Viking ship, Dublin, Ireland. (Photo copyright © by Kaj Halberg)
A lustful guy, constructed of branches, Vrata Valley, Triglavski National Park, Slovenia. (Photo copyright © by Kaj Halberg)
Kitschy art for sale, Old Portland, Maine, United States. (Photo copyright © by Kaj Halberg)
Catholic handicrafts from c. 1890, possibly originating in Germany, depicting the Three Wise Men, honouring the newborn Christ in the stables. According to legend, one of the Wise Men was black. – Read more about Christianity on this website, see Religion: Christianity. (Photo copyright © by Kaj Halberg)
Graffiti on a house wall in the town of Sion, Valais, Switzerland. An edge on the wall has been incorporated in the drawing as a 'chair'. (Photo copyright © by Kaj Halberg)
Sculpture, depicting a rotund cook, placed as an eye-catcher outside a restaurant in the town of Karapinar, east of Konya, Turkey. (Photo copyright © by Kaj Halberg)
No smoking! – Wall painting in the town of Keylong, Lahaul, Himachal Pradesh, India. (Photo copyright © by Kaj Halberg)
Paper cutting, depicting a tribal village and people working in a rice field, made by Yao (Jiao) tribals, Duyun, Guizhou Province, China. (Photo copyright © by Kaj Halberg)
Painting, depicting a lion, on the backboard of a truck, Haryana, India. (Photo copyright © by Kaj Halberg)
Sign outside a pub, depicting a beautiful mermaid, Old Portland, Maine, United States. (Photo copyright © by Kaj Halberg)
Sign in Kathmandu, Nepal, advertising jungle safaris to Chitwan National Park. – This park seems to harbour enormous tigers! (Photo copyright © by Kaj Halberg)
Gnomes are much utilized as decoration in the Alps. In this picture from Boltigen im Simmental, Switzerland, they have been placed among scented geraniums – the most popular house plant in the Alps. (Photo copyright © by Kaj Halberg)
Kitschy sculpture, depicting a Hindu mythological hero and his consort, Kintamani, Bali, Indonesia. Note the broken arms. (Photo copyright © by Kaj Halberg)
Cat, made from metal parts, Lexington, Kentucky, United States. (Photo copyright © by Kaj Halberg)
Street art: Figure, depicting Bhimsen, the Hindu god of trade, Varanasi, Uttar Pradesh, India. – Read more about Hindu gods elsewhere on this website, see Religion: Hinduism. (Photo copyright © by Kaj Halberg)
Wood fairy, looking out from behind a tree, Öland, Sweden. (Photo copyright © by Kaj Halberg)
Mural, depicting bakers at work, Friesach, Steiermark, Austria. (Photo copyright © by Kaj Halberg)
Huge sculpture, depicting the famous giant ape King Kong, placed on one of the buildings of the Hollywood Wax Museum, Pigeon Forge, Tennessee, United States. (Photo copyright © by Kaj Halberg)
School children have decorated this wall in Lambert's Bay, South Africa, with a painting of a fisherman. It seems that the boy would like to have a fish! (Photo copyright © by Kaj Halberg)
Kitschy elephants for sale, Ubud, Bali, Indonesia. (Photo copyright © by Kaj Halberg)
This sculpture near Alliance, Nebraska, United States, which is made from scrapped cars, is called 'Carhenge'. – It is clearly inspired by the famous Stonehenge in England, a picture of which may be found elsewhere on this website, see Culture: Megaliths. (Photo copyright © by Kaj Halberg)
Wall painting, depicting street performers with a sloth bear (Melursus ursinus), Negombo, Sri Lanka. (Photo copyright © by Kaj Halberg)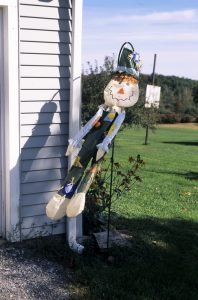 During the Catholic Festival of the Dead, in America called Halloween, this Halloween 'family', partly made from pumpkins, is displayed outside a house in Cummington, Massachusetts. (Photos copyright © by Kaj Halberg)
Hearts, made from small stones with a hole in the centre, Boltigen im Simmental, Switzerland. In the background scented geraniums – the most popular house plant in the Alps. (Photo copyright © by Kaj Halberg)
Kitschy art for sale, depicting old shoes, mice and gnomes, Passo Falzarego, Dolomites, Italy. (Photo copyright © by Kaj Halberg)
A rabbit, or maybe a hare, made from two boards, Reeds Beach, Cape May, New Jersey, United States. (Photo copyright © by Kaj Halberg)
Wall painting, depicting a hummingbird, Valparaiso, Chile. (Photo copyright © by Kaj Halberg)
Silhouette cutting in a window, Kivik, Skåne, Sweden. (Photo copyright © by Kaj Halberg)
Carvings in a window opening in the town of Puri, Odisha (Orissa), eastern India, depicting the black Hindu god Jagannath (a form of Krishna, who is an avatar of Vishnu), with his brother and sister. – Read more about Hindu gods elsewhere on this website, see Religion: Hinduism. (Photo copyright © by Kaj Halberg)
Flamingo, its wings made to flutter in the wind, Reeds Beach, Cape May, New Jersey, United States. (Photo copyright © by Kaj Halberg)
Following the nuclear destruction of Japanese cities Hiroshima and Nagasaki, folded paper cranes became a symbol of peace. Thousands were folded by Japanese school children. (Photo copyright © by Kaj Halberg)
Kitschy sculptures, depicting roosters, Kapalıçarşı ('The Covered Market'), Istanbul, Turkey. (Photo copyright © by Kaj Halberg)
Sculpture, depicting a friendly frog, displayed outside Pura Ulun Danu Bratan, a Hindu temple near Lake Bratan, Bali, Indonesia. (Photo copyright © by Kaj Halberg)
Heart with a butterfly, constructed of wood, Thierstein, Bavaria, Germany. (Photo copyright © by Kaj Halberg)
This wall in Lambert's Bay, South Africa, has been decorated by school children with a painting, depicting jackass penguins (Spheniscus demersus) and gulls. (Photo copyright © by Kaj Halberg)
These children in Zhongdian, Yunnan Province, China, enjoy eating figures of cranes and roosters, made from melted sugar by a street vendor. (Photos copyright © by Kaj Halberg)
Sculpture, depicting children, Charleston, South Carolina, United States. (Photo copyright © by Kaj Halberg)
Kitschy art, depicting a dragon, made from scrap metal and chicken wire, Lake Toplitz, near Bad Aussee, Austria. (Photo copyright © by Kaj Halberg)
Wall painting, depicting a dragon, Chinatown, San Francisco, California. Read about the dragon in Chinese mythology elsewhere on this website, see Religion: Daoism in Taiwan. (Photo copyright © by Kaj Halberg)
Folk art on a house beam: Urinating man, clad only in a topi (Nepalese style hat). – Landrung, Modi Khola Valley, Annapurna, C Nepal. (Photo copyright © by Kaj Halberg)
Kitschy art on a restaurant wall, depicting brown bears (Ursus arctos), a capercaillie (Tetrao urogallus), and a medieval hunter, Bluntau Valley, near Golling, Salzburg, Austria. (Photo copyright © by Kaj Halberg)
Kitschy sculpture, depicting a fearsome tiger, displayed outside Pura Ulun Danu Bratan, a Hindu temple near Lake Bratan, Bali, Indonesia. (Photo copyright © by Kaj Halberg)
Wood carving, depicting a friendly ogre, Bornholm, Denmark. (Photo copyright © by Kaj Halberg)
(Uploaded September 2016)
(Revised continuously)