India & Nepal 1978: Journey towards Everest
At the end of the gorge a magnificent view was unfolded, as the yellowish-orange evening sun illuminated the gigantic, snow-clad Annapurna Mountains. (Photo copyright © by Kaj Halberg)
In October 1978 I fly to Delhi, from where I intend to travel overland to Nepal, which, for various reasons, is the Promised Land to many Westerners. Some, myself including, go thither to hike in the Himalaya, but the vast majority are hippies and 'freaks', who in large numbers travel to Kathmandu, the capital of Nepal, to enjoy life, and to breathe through a chillum (hash pipe).
In Delhi, I buy a ticket for a three-day bus trip to Kathmandu. Many busses ply this route, because most hippies and 'freaks' choose this very uncomfortable, but cheap way to travel. As I plan to stay in Asia for at least six months, I must count my pennies, so in order to save money I choose the same manner of transportation.
The passengers make up a flamboyant and jolly crowd. Most of them are long-haired and wear colourful garments, which have just been purchased at one of the Delhi markets. I and a few others wear old duds from home, but a single Dutchman stands out from the crowd, wearing a noble suit. His name is Krabowski, indicating that he is of Polish descent, and he makes a living, selling Tibetan carpets back in Holland. Maybe his company is not doing too well, since he has to employ this manner of transportation, but that said he is a nice guy, who is not the least condescending towards the hippies or people like me, wearing worn trousers and down-at-heel shoes.
Street scene in Delhi: barbers at work, and boys washing clothes at a communal tap. (Photo copyright © by Kaj Halberg)
'The Flying Dutchman'
The bus does not leave Delhi until late afternoon, and our first break is at a restaurant near the famous mausoleum Taj Mahal in Agra. However, we don't have as much as a glimpse of this top attraction, as we arrive after dark, and when we have finished our meal our journey continues during the remainder of the night.
In these parts there are no rules concerning working hours of bus drivers, and as our bus has only one driver, he gets alarmingly tired in the early hours. For this reason, the Dutchman, who previously has been driving busses, takes over the wheel. I doze off, but shortly before dawn I am awoken by a tremendous crash. To avoid hitting a cycle rickshaw, Krabowski has hit one of these circular concrete 'islands' in the centre of a road crossing, at which, during daylight hours, a police officer is doing his best to keep a minimum of order in the chaos, which Indian traffic constitutes. Naturally, there is no officer present at this time of the night, where traffic is almost non-existing. One pair of rear wheels on our bus have become crooked, and the baggage compartment has a huge dent. Our Nepalese staff loosen the wheel bolts, whereupon they reverse the bus into the concrete 'island', in this ingenious way straightening the wheels. The dent is repaired with a hammer – an indispensable tool on board a Nepalese bus.
A wit among the hippies at once dubs Krabowski 'The Flying Dutchman', named after the legendary ghost ship, which, it is said, since the 1600s has cruised the stormy seas south of Africa, where it charges at full sails – also when the sea is dead calm. According to folk lore, this ship is a portent of doom for anyone who sees it.
The day has begun, as we continue our journey across the dusty Ganges Plain, passing one village after another, occasionally encountering a stinking industrial town, where factory chimneys emit huge quantities of black smoke into the already misty landscape. In spite of the damaged wheels, our driver races along the lousy roads, but, strangely enough, the 'repair' seems to be adequate. Lots of black kites (Milvus govinda) and Indian white-backed vultures (Gyps bengalensis) are soaring over the fields, and gorgeous Indian rollers (Coracias benghalensis) take off from the thickets. In puddles along the road, birds like black-winged stilts (Himantopus himantopus), pond herons (Ardeola grayii), and yellow-billed egrets (Mesophoyx intermedia) are feeding.
[In 1978, vultures and kites were extremely common all over India, but since the 1990s, all species of Indian vultures have declined alarmingly due to poisoning from diclofenac, a veterinary drug widely used to treat diseases in livestock. Research has shown that when these vultures feed on cattle carcasses, which contain diclofenac, it will destroy their livers. The kite has also diminished, mainly due to less available garbage.]
Morning mist on the Ganges Plain. A farmer is carrying fodder to his village. (Photo copyright © by Kaj Halberg)
Two Indian white-backed vultures (Gyps bengalensis), alighting from a tree. (Photo copyright © by Kaj Halberg)
Portrait of a paria pup, Lucknow. (Photo copyright © by Kaj Halberg)
"You want hash?"
The following night is spent in the border area between India and Nepal. Even though our passports have not yet been stamped by the Nepalese authorities, we are allowed to cross the border to spend the night in a Nepalese hotel. The first part of the Nepalese landscape is flat like India, but soon we enter the low foothills of the Himalaya. A young musician enters the bus, entertaining us for many miles, singing while mangling a fiddle-like instrument. On the whole, hippies are generous people, who are happy to support poor musicians, so our entertainer has made a lucky hit. He is very happy when he leaves the bus.
In this area, the farmers, naturally, work as hard as farmers do in India, but they do seem a bit prouder and more erect – not stooping and haggard as Indian farmers. Everywhere, they are seen carrying huge loads, mostly on their back, a woven band tied around the burden and then around their forehead. These people must have enormously strong neck muscles.
During a break at the road side, 'The Flying Dutchman' is arguing with one of the other passengers. The latter throws some dirt on him, whereupon the Dutchman declares that if this act is repeated he will be after him. When his opponent again throws dirt on him, Krabowski jumps up and grabs hold of a tree branch, swinging towards his opponent to kick him. But, alas – the branch breaks, and he ends up in a muddy ditch, the branch draped over him. "The Flying Dutchman," somebody at once comments from the crowd, "now you're not respectable enough to represent 'Krabowski International'."
Towards evening, we pass through a gorge, at the end of which a magnificent view is unfolded, as the yellowish-orange evening sun illuminates a chain of gigantic, snow-clad mountains. This is the famous Annapurna, named after the Hindu goddess of crops. We continue a couple of miles west to spend the night in Pokhara – the ultimate paradise of 'freaks'. As soon as we leave the bus we are surrounded by a crowd of young men. "You want hash, cocaine, mushrooms?" they ask us. The mushrooms are huge, resembling the common edible mushroom of Europe, but famous for their rather large content of psilocybin, a hallucinogen, which is also found in a small European fungus, named liberty cap (Psilocybe semilanceata).
I am accommodated in a private home with three or four other travellers. The resident family retreats to a wattle-and-daube hut at the back – in their eyes, housing four or five tourists is quite profitable. We go out to eat, but do not find much local lore in the restaurant – Western food, Western music, the air thick from hash smoking. Let me get into the mountains as quickly as possible!
Exploring Kathmandu
Kathmandu is indeed a colourful spectacle. Parts of the city is modern and noisy, and of little interest to me, but the Old City is beautiful, especially around Durbar Square, which contains the old Royal Palace, Hanuman Dhoka, besides numerous Hindu temples, built of wood and decorated with countless beautiful carvings, which, among many other things, depict gods and other mythological creatures, and couples in advanced mating positions.
I am so lucky to have arrived during the annual Hindu festival of Tihar, also called 'Festival of Lamps'. In the evening I walk down the streets, where countless small oil lamps illuminate streets and houses. Rows of lamps lead into the house entrance, so that the goddess of wealth, Lakshmi, can find her way to the family cash-box and fill it up. In temples and private homes music is played, and you are welcome to sit down and listen.
'Freak Street' is the popular name of a street, where most hash-smokers hang out. When I stroll down the street, young men approach me, whispering if I want drugs, change money on the black market, or sell anything. A row of trees near the new Royal Palace constitute the day-roost for hundreds of large fruit bats, named Indian flying fox (Pteropus giganteus), which hang in the trees, head down. At dusk, they leave the trees to search for over-ripe fruit, while spotted owlets (Athene brama) emit their distinctive hissing scream, sounding like anything but a hooting owl.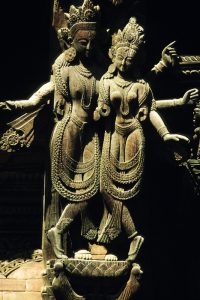 Wood carving on the Old Royal Palace, Durbar Square, Kathmandu, depicting Nepalese royalty. (Photo copyright © by Kaj Halberg)
Wood carving on a Hindu temple, depicting a mating couple, Pashupatinath, Kathmandu. (Photo copyright © by Kaj Halberg)
During the Hindu festival of Tihar, or 'Festival of Lamps', the goddess of wealth, Lakshmi, visit all her devotees, and in the evening numerous lamps are placed on houses and in streets to guide her into the homes. (Photo copyright © by Kaj Halberg)
Women, cleaning their harvest of rice by winnowing, Kathmandu. The wind carries away dust and chaff. (Photo copyright © by Kaj Halberg)
Encounter at the Immigration Office
To hike in the mountains of Nepal, you need a so-called 'trekking permit' – a document which informs the authorities, where you intend to go trekking, and for how long. In this way they can keep track of the many hikers in the mountains. For this reason, I walk to the Immigration Office to get my permit.
When I enter the office, there is this strange American, walking around and asking everybody: "Would you like to trek with me to Everest Base Camp?"
Here I am, a timid young man from little flat Denmark, who has never been trekking in Nepal before. I have come to do a bit of hiking and to watch birds – not to do any great deed. We talk a bit, and I tell him that maybe the Everest trek will be a little too hard for me. I deliver my application for a trekking permit to a less demanding area and leave the office. However, I have only walked about a hundred yards, before I think: "Hmm, he did sound quite interesting – maybe I should join him anyway." So I go back to the office, where the American is still searching for a companion, and inform him about my change of plans. "Great", he says, "my name is John Burke. And yours?"
Before I met John, he had hooked up with two Austrian sisters, Helga and Heidi, who are also going to the Everest area. Now, if there are any tough women in this world, it must be the Austrian women. John thought so, too, after meeting them, and that is his reason for wanting another companion, who is more like him – a less experienced trekker.
Towards Everest, full speed
We fly in a small plane to the town of Lukla, situated a few days' walk south of Sagarmatha, as Mount Everest is called locally. The landing is quite an experience, as the plane jumps like a kangaroo up the short runway. Later, we learn that one of the engines had failed during landing. We get our luggage, and in a small restaurant we enjoy our lunch – boiled potatoes with salt and chili powder, washed down with chang (a local millet brew).
Off we go behind Helga and Heidi – at full speed. Trying to keep up with these formidable women is quite a challenge for beginners like us, but luckily the first part of the trail leads down to the Dudh Kosi ('Milky River'). The whitish water in this river is caused by suspended powder, which glaciers are grinding off the rocks around the source of this river.
Along the trail is low secondary forest, heavily lopped. This valley is densely populated, and the forest has been cut down for timber and firewood. Many of the deciduous trees are very colourful, displaying red and yellow autumn foliage. Along the trail, I find only self-heal (Prunella vulgaris) in bloom, and also red berries of Rubus nepalensis, the leaves of which resemble those of cloudberry (R. chamaemorus). Its berries are even more tasty than cloudberries, being slightly sour and sweet at the same time.
We overtake several tourists, walking in a long line. Their porters carry all sorts of equipment, such as food, cooking utensils, tents, sleeping bags, mattresses, dining tent, toilet tent, and also table and chairs, so that their clients can eat with style. We pitch our tents near a small tea shop, where we have our evening meal. To our great dismay, we discover that during our stay here, a cooking pot, a piece of cheese, and some sausages and nuts are stolen from our scanty rations.
Setting out on our Everest trek, John is doing his best not to lag behind the tough Austrian sisters, Helga and Heidi. (Photo copyright © by Kaj Halberg)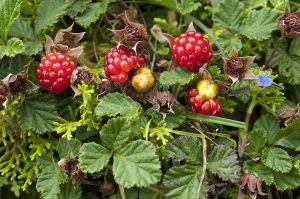 The cloudberry-like Rubus nepalensis has delicious, slightly sour fruits. In this picture, leaves of a species of spikemoss, Selaginella, are also seen, and the blue flower is Cyanotis vaga, of the dayflower family. (Photo copyright © by Kaj Halberg)
Market day in Namche
The following morning, we cross the Dudh Kosi on a suspension bridge, situated high above the river, after which follows a long, steep ascent towards the largest village of the area, Namche Bazaar, predominantly inhabited by Sherpas – a Tibetan people, which migrated here more than 500 years ago. This village is famous for its Saturday market, and, as it turns out, the tremendous speed, executed by the Austrians, was caused by their desire to reach Namche Saturday morning, so that we would have the opportunity to attend the market. Since old days, extensive trading has taken place between Sherpas and Tibetans, the latter bringing salt and yak hides over the high mountain passes, separating the two countries. These articles were traded for cereals, tea, and sugar. This trade was interrupted, when the Chinese invaded Tibet in the 1950s, but these days they have slackened the restrictions a bit, and the trade has been taken up again on a smaller scale.
On the market, which takes place in the steep streets of the village, all sorts of goods are displayed for sale, including cereals, vegetables, kitchen ware, agricultural tools, tennis shoes, plastic sandals, whole yak heads, and dried carcasses of goats, where skin and intestines have been removed. I forget my camera on a stone wall in the centre of the market, but when I return shortly after it is still there, untouched. Theft is virtually unknown in these parts – apart from a little pilfering, which we experienced the previous day.
The same day we continue our hike up a steep slope to the village of Khumjung, situated at an altitude of 3,800 m. We pitch our tents in a field near the village, from where we can enjoy a magnificent view towards the double-peaked mountain Ama Dablam (6,856 m), which is sacred to the Sherpa people.
Enjoying a much-needed rest day, we pay a visit to the hospital in the nearby village of Kunde. The power for the hospital is delivered by a small hydro-electric plant, which also deliver electricity to nearby villages. This initiative was started by Sir Edmund Hillary – the mountain climber who, together with Tenzing Norgay Sherpa, for the first time climbed Mount Everest, in 1953. Due to over-exploitation, forests in this area have begun to look a little ravaged. It was Hillary's hope that the construction of power plants would diminish the pressure on the forests. The inhabitants, however, only use the power for a few electric bulbs, whereas cooking – which is by far the largest consumer of wood – is still done the traditional way.
The following morning, we make a steep descent to Dudh Kosi, followed by a likewise steep ascent through a magnificent forest of rhododendron, Himalayan birch (Betula utilis), and Himalayan silver fir (Abies spectabilis), arriving at Tengboche – the most important gompa (Tibetan Buddhist monastery) in Khumbu, which is situated on a ridge, surrounded by stupendous mountains. We camp near the monastery, the severe cold driving us into our sleeping bags early. Mornings here are also very cold, as the sun does not appear over the mountains until about 8 o'clock. – Read more about gompas – and about Buddhism in general – on this website, see Religion: Buddhism.
Young Sherpa woman, Namche Bazaar. (Photo copyright © by Kaj Halberg)
This rock near Namche Bazaar is covered in chiseled Buddhist mantras. Such decorated rocks or stone slabs are called mani stones. The most common of the chiseled mantras is 'Om Mani Padme Hum', which loosely translates as 'Hail Jewel in the Lotus Flower' – a symbol of the Buddha. Read more about mani stones – and about Buddhism in general – on this website, see Religion: Buddhism. (Photo copyright © by Kaj Halberg)
Morning around Tengboche Buddhist Monastery. A long row of mani stones is seen in the foreground. (Photo copyright © by Kaj Halberg)
During our hike in the Everest area, we especially loved the double-peaked mountain Ama Dablam (6,856 m), which is sacred to the local Sherpa people. Here, female porters are passing in front of the mountain. (Photo John Burke, copyright © by Kaj Halberg)
Acute Mountain Sickness
Our hike now leads down through lovely birch forest, where we observe small flocks of beautiful blood pheasants (Ithaginis cruentus), named after the tear-shaped, red streaks on the breast of the cock. We cross a river, Imja Khola, which is a tributary to the Dudh Kosi, continuing past the village of Pangboche to another village, Dingboche, situated at an altitude of 4,350 m, beneath Ama Dablam. No forest can grow at this altitude, the vegetation consisting of low thickets of juniper (Juniperus), sea-buckthorn (Hippophae), and barberry (Berberis), with scattered grazing grounds and fields.
We are allowed to pitch our tents in a harvested field of barley, in which the owners are busy bundling straw from their harvested crop. The barley has been placed on tarpaulins, and several jet-black, red-billed choughs (Pyrrhocorax pyrrhocorax) see their chance to eat some of the crop. The boys shout, throwing rocks after the birds, which hastily depart.
Roasted barley flour, called tsampa, is a main staple food of Tibetan peoples. The flour is mixed with hot or cold water, or tea, to a porridge-like substance, which is then eaten. Thus, tsampa is easy to make a quick meal from – very convenient when travelling.
The following morning, we continue up along the Imja Khola, through a desolate valley, surrounded by harsh, snow-clad mountains. I only observe one bird species here, the magnificent white-winged redstart (Phoenicurus erythrogaster). A few hours later, we arrive at a small cluster of hotels, named Chhukung (4,750 m). I feel extremely uncomfortable, dizzy and nauseous, and John is not feeling good either. We both have an attack of AMS (Acute Mountain Sickness), a condition caused by lack of oxygen in your body. At this altitude, the air contains less than two thirds of the amount of oxygen, found at sea level. Our condition is undoubtedly caused by our forced hike, and for this reason we decide to split from the Austrians and walk at our own pace. I think they are just as relieved as we are – to get rid of beginners like us. To get better, we must return to Dingboche the same day, and once we are back here, we immediately feel much better.
As John and I are afraid of experiencing another attack of AMS, we never make it to Everest Base Camp. However, we still enjoy ourselves tremendously, walking slow and steady while discussing numerous issues, each of our camp sites situated in a magnificent landscape. We camp a few days in our 'old' field at Khumjung, in the evening admiring the unbelievably starry sky behind Ama Dablam.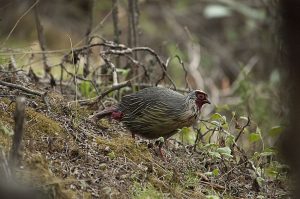 The blood pheasant (Ithaginis cruentus) is named after the tear-shaped, red streaks on the breast of the cock. (Photo copyright © by Kaj Halberg)
Helga and Heidi, camping near the village of Dingboche. (Photo John Burke, copyright © by Kaj Halberg)
Sherpas, bundling straw from their harvested barley, Dingboche. (Photo John Burke, copyright © by Kaj Halberg)
John and I try to keep warm outside our tent on an ice-cold morning, near the village of Khumjung. (Photo copyright © by Kaj Halberg)
Pitching a tent in the dark
When we return to Lukla to catch our flight back to Kathmandu, John feels that he needs to socialize over a beer or two, so he goes to a restaurant, which is popular among trekkers. I volunteer to wait at our camp ground – a grassy field near the village – to guard our luggage, until John will return in time for us to put up his tent, which we are sharing.
I wait and wait – no John. Dusk, and still no John. I decide to put up the tent alone. However, besides being a camp ground, the field has an additional function, namely as a toilet, judging from the numerous piles lying here and there. So putting up our tent here, in the dwindling light, is a painful task – finding a space large enough, without those piles, is not easy. But I succeed and creep into my sleeping bag.
Later, when it is already pitch dark, John finally returns. He sticks his head into the tent, saying: "Thanks for putting up the tent."
I relate my difficulties, whereupon he answers: "I wouldn't even have been able to do that myself!"
I urge him to examine the soles of his boots very carefully before entering the tent.
(Uploaded June 2016)
(Latest revision May 2019)