Hardy Highlanders – People and Wildlife of the Himalaya
Kaj Halberg: Hardy Highlanders – People and Wildlife of the Himalaya. Equinox International Ltd., 2014
Morning light on Dhaulagiri (8,167 m), Annapurna, central Nepal. (Photo copyright © by Kaj Halberg)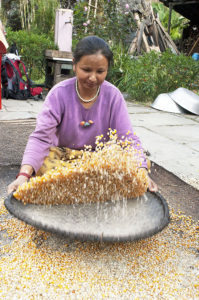 This Gurung woman in the Marsyangdi Valley, Annapurna, central Nepal, is winnowing maize. The breeze will remove dust from the crop, and by beating the edge of the basket with an intricate movement of her left hand, she separates pebbles and chaff from kernels. (Photo copyright © by Kaj Halberg)
A farmer transports a load of silver-headed grass to his farm to feed his buffaloes, Dhobichour, Helambu, central Nepal. (Photo copyright © by Kaj Halberg)
This dog has found a peaceful resting place, next to a huge Tibetan prayer wheel, in the village of Upshi, Ladakh. Inside the wheel are sheets of paper with written mantras. When turned, the prayer wheel will disperse these mantras into the Universe. (Photo copyright © by Kaj Halberg)
The Himalaya are a long arch of gigantic mountains, stretching more than 2,500 km from northern Pakistan to the northern tip of Myanmar. Here lie the highest mountains on Earth, with 14 peaks reaching an altitude of more than 8,000 m. In this area of varied habitats, an incredible multitude of plants and animals is found, and the numerous peoples, who live here, are as diverse as the flora and fauna.
This book contains 339 photographs from these magnificent mountains, depicting landscapes, weather, plants, animals, people, and more, each supplied with a concise, yet descriptive text. Contact me at the address respectnature108@gmail.com, if you are interested in acquiring this book. Price US$25 + postage.
A number of pictures from the book are shown on this page. An introductory text reads as follows:
The word Himalaya comes from the Sanskrit hima ('snow') and alaya ('abode'), thus meaning 'The Abode of Snow'. The Himalaya consists of a long arch of gigantic mountains, stretching from northern Pakistan southeast to the northern tip of Myanmar – a distance of more than 2,500 km. Here you find the Earth's largest concentration of very high mountain tops – 14 peaks reach an altitude of more than 8,000 m, and hundreds are more than 7,000 m high. (For comparison, the highest mountain outside Central Asia – Aconcagua in Argentina – is a mere 6,962 m high.)
The four highest mountain tops in the Himalaya are Sagarmatha, or Mount Everest (8,850 m) (called Chomolangma in Tibet) on the border between Nepal and Tibet; K 2, or Godwin Austen (8,611 m) (locally called Dapsang) on the border between Pakistan and Sinkiang (Xinjiang); Kangchendzonga, or Kanchenjunga (8,586 m) on the border between Nepal and Sikkim; and Lhotse (8,511 m), close to Sagarmatha.
The borders of the Himalaya are not well defined. To the northwest, the Karakoram Mountains (which some authorities consider a part of the Himalaya, others do not) merge into the Hindu Kush and Pamir Mountains. To the north and northeast, several mountain chains in Ladakh, Tibet, and China are a continuation of the Himalaya proper.
As you move from east to west in the Himalaya, annual rainfall diminishes greatly, and the north-western part of the mountains – northern Pakistan, Ladakh, northern Himachal Pradesh, and north-western Nepal – are barren and desert-like, while the easternmost parts are incredibly lush.
As a result of the great span in altitude and precipitation – besides various other factors such as micro-climate and soil composition – flora and fauna of the Himalaya are indeed diverse. In these mountains, two bio-geographical zones meet: The Oriental Zone, containing species from the Indian Subcontinent and Southeast Asia, and the Palaearctic Zone, containing species of Central or West Asian origin. Approximately 10,000 species of seed-bearing plants grow here, besides many hundred species of fungi, lichens, mosses, clubmosses, ferns, and other spore-bearing plants. No less than c. 900 species of birds have been observed in the Himalaya, besides c. 200 species of mammals, c. 150 species of reptiles, c. 50 species of amphibians, c. 800 species of butterflies, and innumerable other invertebrates.
Numerous peoples, of diverse origin, inhabit the Himalaya. People in the north-western part of the mountains, in Pakistan, Kashmir, southern Himachal Pradesh, and Uttarakhand, are mainly of Caucasian origin, known by the term Indo-Aryans. Their forefathers migrated here some 3,500 years ago from the steppes around the Caspian Sea.
In Zanskar, Ladakh, Lahaul, Spiti, most of Nepal, Sikkim, and Bhutan, a multitude of various Mongoloid peoples are found, many of which emigrated from Central Asia hundreds, or even thousands, of years ago. The ancestry of the Newar people of central Nepal is not clear, but their blood is probably mixed Indo-Aryan and Mongoloid. The many tribal peoples in Arunachal Pradesh and northern Myanmar are Mongoloids, probably originating from Thailand or southern China.
Viburnum is a genus of small trees with pretty white or pink flowers. As the specific name implies, Viburnum grandiflorum has the largest flowers among the eight Himalayan species, and it is the only one to bloom in winter and early spring.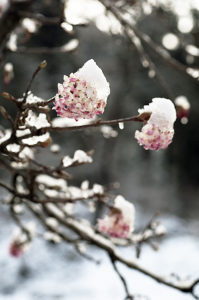 The hardy flowers on this Viburnum grandiflorum are covered in a layer of ice and snow, Dodi Tal, Uttarakhand. (Photo copyright © by Kaj Halberg)
This pale-armed Himalayan langur (Semnopithecus schistaceus) enjoys its meal of Viburnum grandiflorum flowers, Dodi Tal, Uttarakhand. (Photo copyright © by Kaj Halberg)
On a misty winter morning, fishermen in the Koshi Tappu swamps, southern Nepal, bring their nets ashore to be dried in the sun. Grazing water buffaloes are seen in the background. (Photo copyright © by Kaj Halberg)
Abelmoschus manihot, of the mallow family (Malvaceae), is quite common along trails and in waste fields. It is a bristly-haired herb, to 2 m tall, with palmately lobed leaves and pretty yellow flowers with purple centres. A near relative, Abelmoschus esculentus, has edible fruits, called okra or ladies' fingers.
Abelmoschus manihot, photographed in the lower Marsyangdi Valley, Annapurna, central Nepal. Himalayan nettle (Urtica ardens) is also seen. (Photo copyright © by Kaj Halberg)
Near the great lake Tso Moriri, Ladakh, a colony of Himalayan marmots (Marmota himalayana) has found a peaceful haven. The local Buddhist population does not harm these large, ground-living squirrels, and they show no fear of people passing by.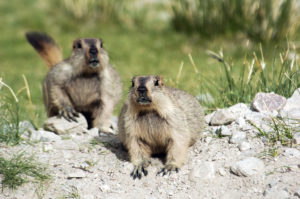 (Photos copyright © by Kaj Halberg)
Despite having had an obviously strenuous life, this old Sherpa woman has aged with grace. She is clad in the traditional Sherpa dress. – Sangrati, Arun Valley, eastern Nepal. (Photo copyright © by Kaj Halberg)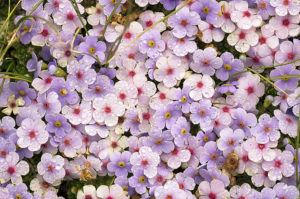 About 22 species of rock-jasmine (Androsace) are found in the Himalaya. This is Androsace muscoidea, photographed after a rain shower, Great Himalayan National Park, Himachal Pradesh. (Photo copyright © by Kaj Halberg)
This little Ladakhi girl is riding on her grandfather's back. In the Himalaya, grandparents are highly respected, and they often participate in the upbringing of their grandchildren. – Umlung, Ladakh. (Photo copyright © by Kaj Halberg)
(Uploaded January 2016)
(Latest update May 2020)